Win up to $5 000 every day in Card Hunt promotion at PokerStars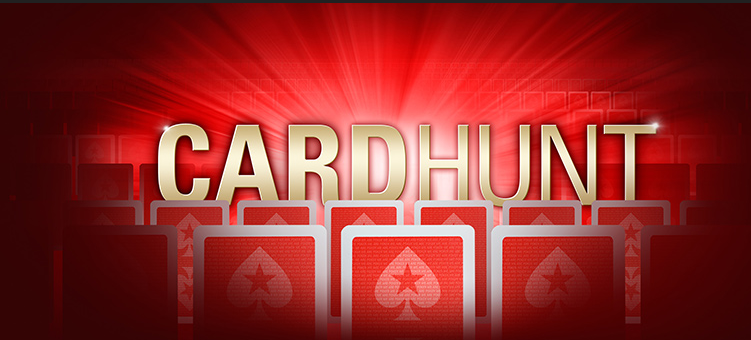 ​
The other day, PokerStars has launched the CardHunt promotion. The idea of the promotion doesn't contradict its name, and the players of the poker room have already begun their hunting.
Win up to $5 000 every day
Every day, a new puzzle will be available in the Challenges Window of the PokerStars lobby. It includes a different number of fragments, each of which represents one of the 52 game cards.
How to assemble puzzles in the CardHunt
In order to put together a daily puzzle and get a prize, you simply need to play at the cash tables. Heads-up is not counted, but Zoom-poker is quite suitable.
Assemble pocket cards that match the pieces of your puzzle. To do this, you need to win the hand with this pocket card. Before participating in the promotion, be sure to click on the "Start" button.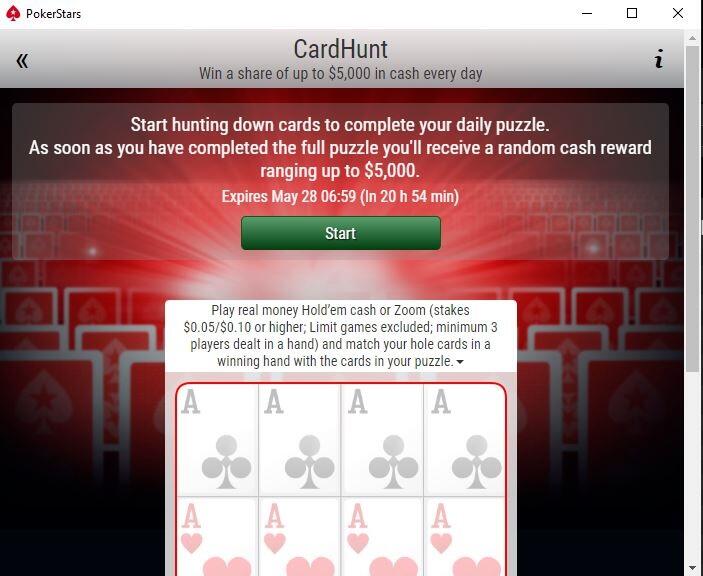 ​
Example:
The king of hearts is one piece of your puzzle. You were dealt A-K (hearts), and if you win the hand on the pre-flop or post-flop, then you will immediately receive a piece of the puzzle that refers to the king of hearts. If there is also an ace of hearts in the fragment, then you will get two fragments at once.
After you complete the puzzle, you will promptly get a guaranteed prize. The size of this reward is determined randomly, and the maximum payout may reach the mark of $5 000.
Please note: there are no special conditions for clearing this bonus, and once you receive it, you will be able to use it without any restrictions. Thus, you have a chance to win pretty substantial money every day.
CardHunt: key information on the promotion
The promotion runs from May 25, 10:00 am (ET) to June 15, 11:59 pm (ET).
A new puzzle is available every day in the Challenges Window.
In order to start participating in the given promotion, you need to click on the "Start" button. The hands you played before the registration are not taken into account.
Players can check the prizes won in the Challenges Window.
The puzzle fragments are provided only for winning hands
Cardmates journalist, news editor and translator since 2018. Specialization: poker news and review of events.