What is a VIP system at PokerMatch
​

Rakeback is a system of returning to a player the commission that is charged from him when playing in a poker room. In different poker rooms, the percentage of rake is different, and at PokerMatch it is 5%.
Calculation is carried out according to the Contributed system.
In this system, each player is charged rake from the amount that he has invested. The more you play, the more money you get with a refund. At times when you fold on preflop, rake is not charged. For paying rake the player is awarded with points that can be exchanged for real money.
Depending on the level of the player, he is awarded a certain VIP level. There are only nine such levels:

​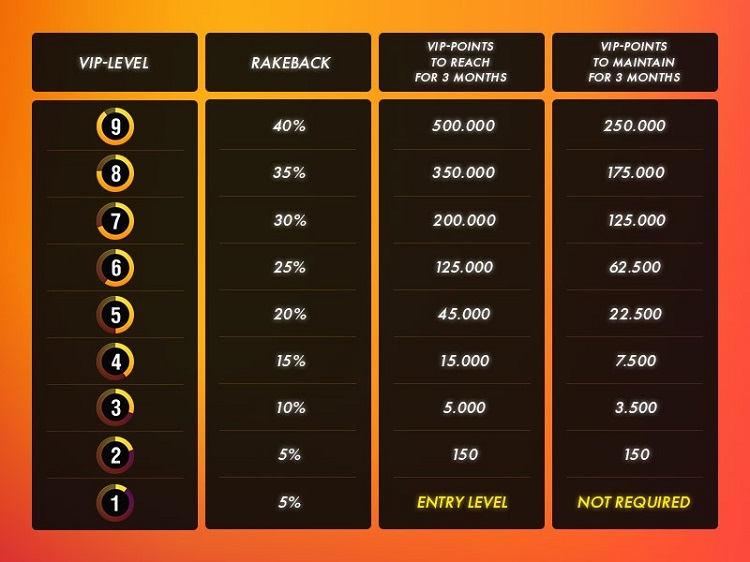 The main conditions for exchanging VIP points:
Points are awarded when playing for real money (hryvnia).
Exchange rate: 1 to 10.
If you have an account with a different currency, the amount will be converted.
The minimum amount that can be exchanged: 100 hryvnia (about $4)
| UAH | VIP-points |
| --- | --- |
| 100 | 1 000 |
| 200 | 2 000 |
| 500 | 5 000 |
| 1 000 | 10 000 |
| 2 000 | 20 000 |
Rake calculation table
| Level | VIP-points for 1 UAH in a rake |
| --- | --- |
| Level 1 | 0.5 |
| Level 2 | 0.5 |
| Level 3 | 1 |
| Level 4 | 1.5 |
| Level 5 | 2 |
| Level 6 | 2.5 |
| Level 7 | 3 |
| Level 8 | 3.5 |
| Level 9 | 4 |