WCOOP 2019 will provide a record guarantee
​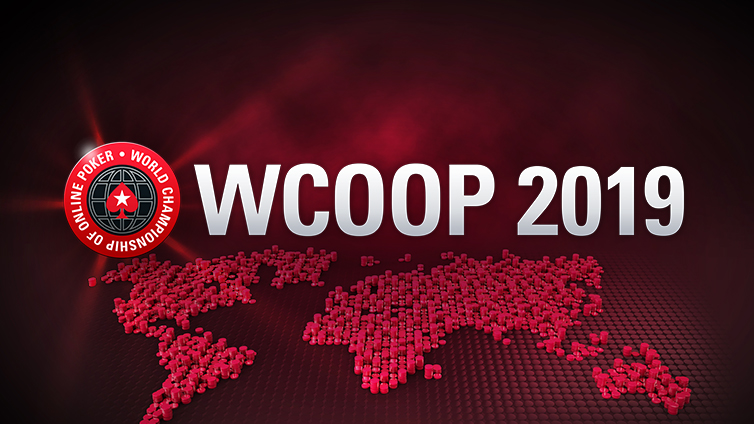 From 5th to 25th September, PokerStars will host a series of online tournaments called the World Championship of Online Poker (WCOOP). The WCOOP 2019 guarantee will be a record and equal to $75 000 000.
There are 73 scheduled events, each of which has different buy-in levels: low (L), medium (M) and high (H). The Main Event providing only two buy-in options (L and H) and the UFC Tournaments with 4 levels (L, M, H and Micro) will be an exception. In total, 219 tournaments are to be played under the WCOOP.
In order to take part in the events, it is not necessary to pay the full buy-in amount. You are able to get qualified through freerolls and qualification tournaments.
«The team at PokerStars has designed the WCOOP that we would like to play and added the biggest guarantee to date. We aim to give all our players a chance to find a tournament for them. That's why we are offering a large range of formats, buy-ins and plenty of routes to qualify. The 20-day tournament series is going to be huge for everyone, and we can't wait to see the results», said PokerStars' Managing Director Severin Rasset.
Read also: PokerStars revenue fell to a record low
Three September weeks at PokerStars will be full of poker action. The first six WCOOP 2019 events start on September 5 and three final ones launch on Monday, 23rd September.
More details about particular WCOOP 2019 events.
On Sunday, 8th September, the $55 Mini Sunday Million will take place as a charity tournament. The entire rake of the event will be sent to the charity organization – Right to Play Charity.
The UFC Tournament with the following buy-in levels will be carried out on September 15:
bantamweight – $11 buy-in;
lightweight – $109 buy-in;
middleweight – $1 050 buy-in;
heavyweight – $10 300 buy-in.
On September 18, it will be possible to participate in Hold'em 6+ tournaments for $11, $109 and $1 050.
WCOOP 2019 Main Event launches on 22nd September and provides two buy-in levels: Low Main Event and High Main Event. The entry fee of the Low Main Event will be equal to $55 and the guarantee - $1 250 000. The High Main Event will cost $5 200, and its prize pool is set at the mark of $10 000 000.
Complete WCOOP 2019 schedule can be viewed at official web site.
Cardmates journalist, news editor and translator since 2018. Specialization: poker news and review of events.