Team play in short deck NL25
Sup mates,
A really good friend of mine and a popular streamer Zapahzamazki faced a disgusting side of poker - team play.
It happend recently at NL25 limit of short deck and if he wasn't my friend, who I know as a very honest and a good poker player, I'd probably never pay attention to this.
So here is what happened:
My man started his 0 to a milly marathon and succesfully made it to over 1k profit playing all types of games including 6+ Hold'em. His EV and profit was always next to each other, untill he strarted playing ante 0.25$ short deck. Number of players at this stakes is quite small and such things can't be unnoticed if you are a pro player like Zamazaka is. Me, myself witnessed how he got sandwitched a few times by players he already got marked as teamplayers at his live stream. Got to give him credit, he didn't just quit the limit and let it go, like most of us will do, he kept playing adjusting to their game and gatherd a lot of evidence proving unfair game.
His results: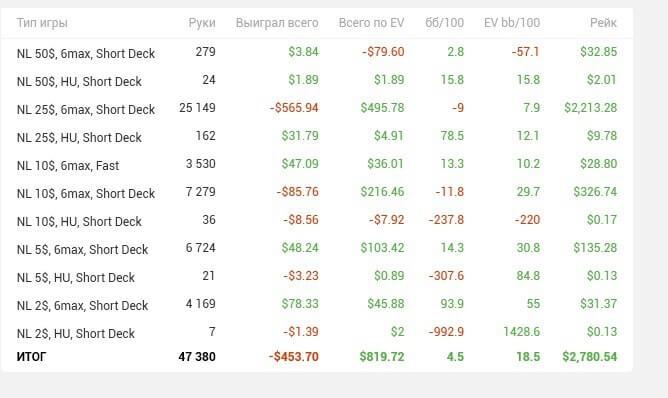 The image below is what Zamazka posted at his Vk.com page as a main evidence of team play and to me as a player, who played over 100k hands of short deck at different stakes, that this is clear cheating: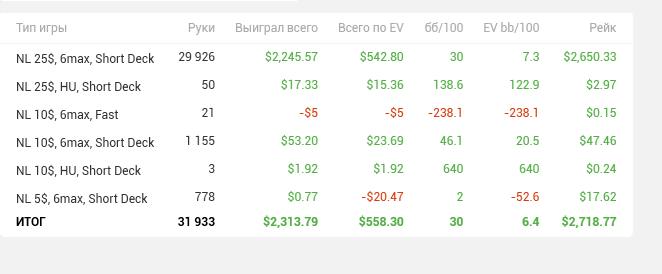 I hope this will help you save your money and if any questions or need help with translationg - I'm free to help.
Best of luck!
Overall rating of this post: