Sid. Poker Sid. I'm gonna knock u up!
my love for poker began long ago and thanks to one famous poker player.
to understand who I'm talking about now, you just need to look at my nickname.
SidPoker - does it look like anything? of course KidPoker! yes, this is the same Daniel Negreanu that everyone knows. now he has a lot of haters, but my love for him remains the same. Negreanu is now the face of the GGpoker poker room. and it is there that the main series in the world of poker, which usually takes place in Vegas, is now taking place.
I follow his results there, as it inspires me.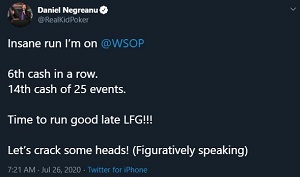 I want him to win a bracelet this year, or better a few!
by the way, his vlogs are very exciting. I recommend for viewing!

Overall rating of this post: