PPPoker HUD: how to play on PPPoker with Holdem Manager and Poker Tracker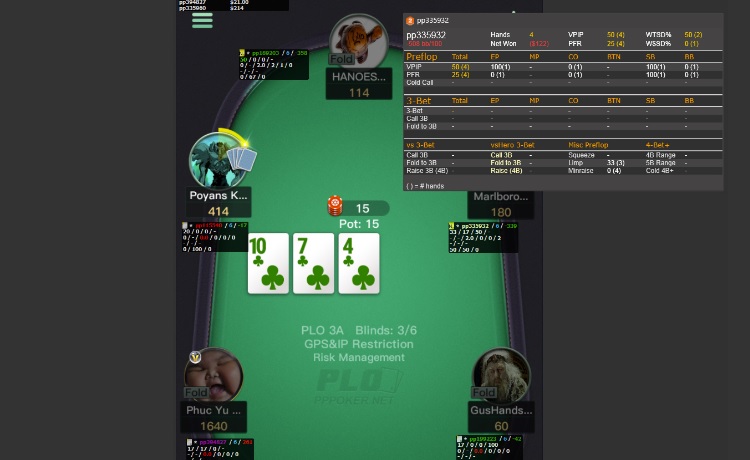 ​
Many poker players are used to play poker with HUD. Additional information on the opponents helps to get an advantage at the table. It is not provided soft using on PPPoker, because the poker room was primarily designed as a mobile application.
There is an embedded HUD in PPPoker, but in order to use it you need to pay a monthly fee. It is not too profitable for those who like to play at many tables, because of the peculiarities of multitabling on PPPoker you will have to pay for HUD on each table separately.
Furthermore, many are used to work with Hold'em Manager or PokerTracker.
On PPPoker, HM2 and PT4 can be used only with the help of special converter.
How does PPPoker converter operate?
By playing online poker without HUD, it is difficult to track the passive, tricky or dubious players and to maximize your profits from every hand. PPPoker HUD solves this problem. The program allows you to run a customizable HUD with popular software.
PPPoker HUD Converter works both with Poker Tracker 4 and Holdem Manager 2. It is quite simple for using.
Everything you need for running:
Register and download PPPoker Converter (PPPoker HUD).
Run the file in conjunction with running Holdem Manager 2 (or Poker Tracker 4).
After running, your standard HUD will open from any of these programs, or custom.
The size of download file is less than 15 MB. Just run the converter as an administrator and use your favorite HUD Holdem Manager 2 on PPPoker, like on any other poker site.
On Windows computers, PPPoker HUD is run automatically, together with Hold'em Manager running. The program operates the same way as with the other rooms: collects the statistics by keeping hands in real-time mode. You can import them at any time.
It is convenient that PPPoker HUD converter works both on Windows OS and through thy emulators. It means that it is perfect for multi-tabling. Officially, they support Android-emulators of BigNox, MOMO and MEMU.
PPPoker HUD is a paid program. It costs $60 per month, and by registering via our link you will receive a 10% discount for purchasing.
Before buying, you can try PPPoker HUD Converter for free. The creators of the program offer a free trial version with a full functionality for 3 days. After that, you can decide whether the program is worth your money and can purchase it.
Please note that some antivirus programs may indicate that it is insecure when downloading the file. There is nothing terrible or unusual in that. This is due to the fact that many antivirus programs are too cautious and detect the false positive results. If you send this file for further analysis, then antivirus program will confirm that "File is clean." The executable file of the converter is encrypted with a security certificate.