PPPoker: how to create your own club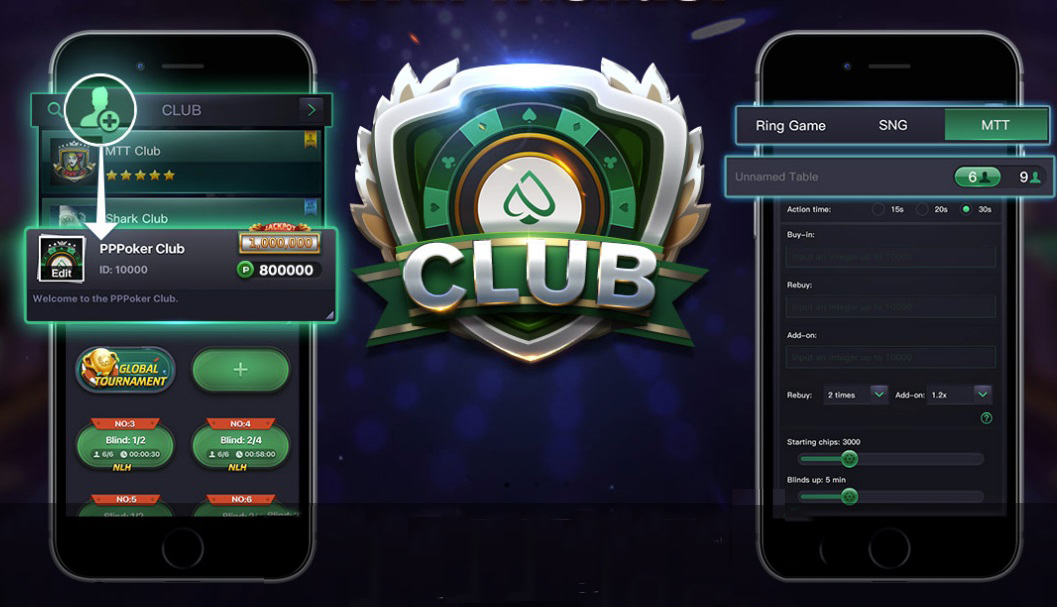 ​
PPPoker is just a platform for playing online; it's not a traditional poker room in the strict sense of the word. Its key feature is that games are organized not by the application itself, but by the clubs. Some of them operate as entertaining ones and provide game on play money, and some clubs function as full-featured poker rooms.
Anyone interested is able to create his/her own club since PPPoker has only few requirements. The question at issue is how to attract players to the club, especially to play on PPPoker for real money.
Therefore, if you're just registering on PPPoker, our agent will select the best poker club for you to play, based on your preferences. In addition, when registering via our link, you will receive benefits in the form of low cashout fee, rakeback up to 40%, guaranteed safety of funds and other bonuses.
However, if you still want to create your own club, here is a small step-by-step instruction.
How to create your own PPPoker club?
PPPoker offers to create a club upon first time entering the application.
You are able to do this at any given moment. For this, implement the following actions:
Log in to your PPPoker account.
In the upper left corner of the lobby, click on the green icon in the form of a man with a plus sign ("+").
Your club will be created right after that. The next step is to give it a name. To do this, click on the «Rename» button.
Select the image (avatar) of the club, its name and add a short description with the necessary information. For instance, contacts, general terms and conditions, chip value. Then press «Save».​ Please note: Club owners are able to set any value they want to PPPoker chips, for instance, you can specify that one chip is equal to one dollar. The chip value is a gentlemen's agreement between the club and the players.
That's it, the PPPoker club is created. Now you can add the tables.
If you need a visual aid, you can watch video «How to create a PPPoker club» on the official YouTube channel of the poker room: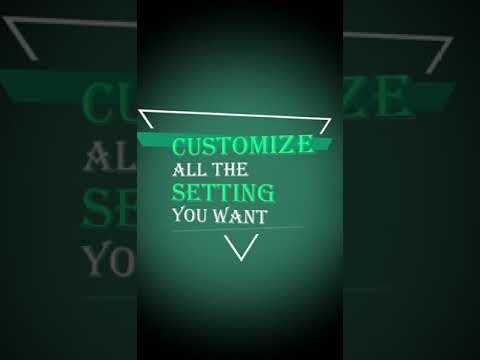 ​
PPPoker сlub table settings
As a club owner, you create tables for the game. You are able to add NLH tables (regular and 6+), PLO and OFC ones.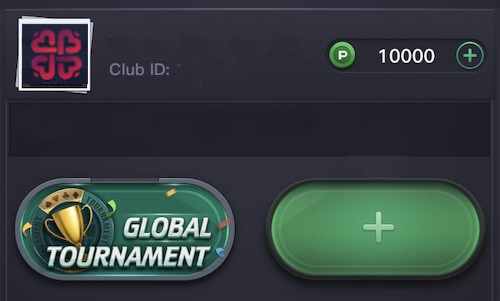 ​
After the game format is chosen, you need to improve the table settings.
For cash tables you should specify the following parameters:
Number of participants at the table (2, 6, 9);
Time for action;
Blinds;
Minimal and maximal buy-in amount;
Rake and CAP;
GPS restriction (option that prohibits participants playing at the same tables if they are in proximity);
IP restriction (option that puts restrictions on people playing at the same table if they have same IP address);
Time (all tables must be created for a certain time interval).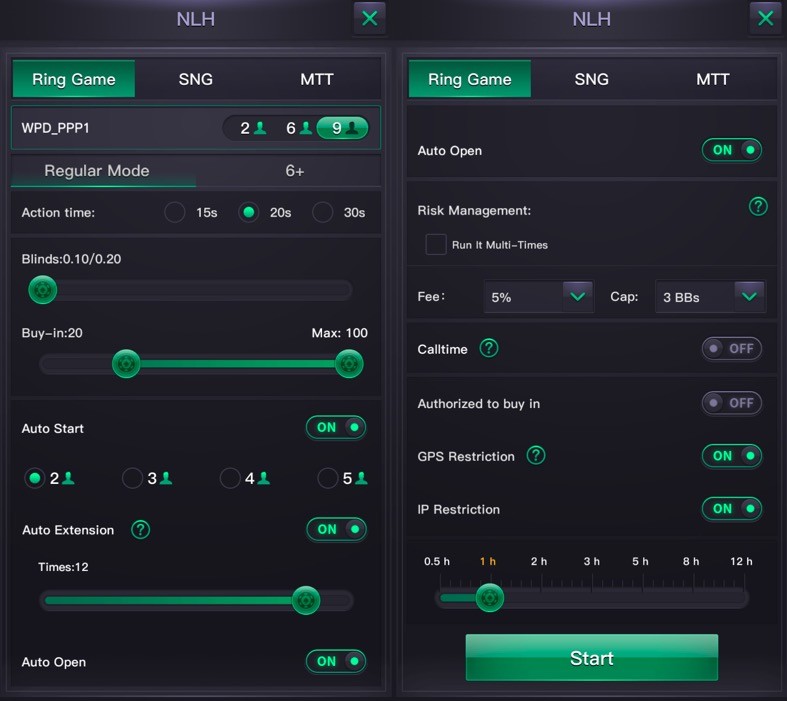 ​
MTT – SNG settings in the PPPoker club:
Number of participants at the table (6, 9);
Buy-in, rebuy, add-on options;
Starting stack;
Blind structure;
Prize pool %;
Format (standard, turbo, progressive knockout, bounty).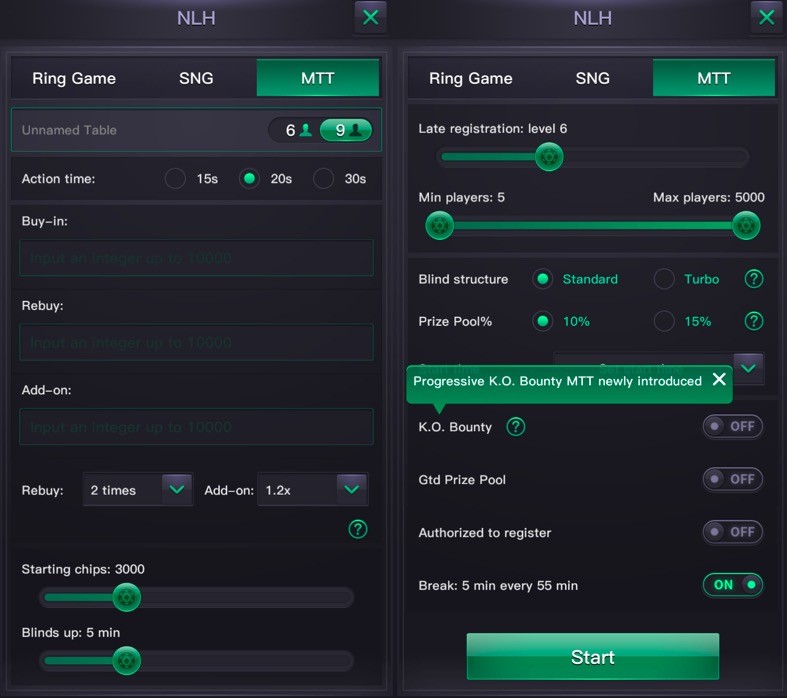 ​
Club administration
Managing PPPoker club is quite simple and intuitive. The managers are given five options, which are to be found at the bottom of the application:

​
E-mail – sending letters to players (mass mailing within the club);
Members – players' administration;
Counter – money management; using this tab, you are able to add or withdraw chips from players;
Data – statistics of the club, rake, players;
Admin – general settings.
A few clubs can form a union that looks like a network with different skins. It is very easy to join or create an alliance of PPPoker clubs; click on the «Union» logo in the upper right corner and follow the instructions.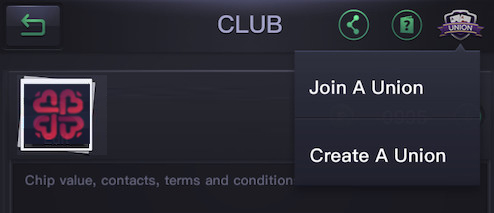 ​
Managers of the clubs are able to upgrade their club status (from 0 to 8) by purchasing PPPoker diamonds. The cost of an eight-star club is equal to 48 000 diamonds (780 diamonds = $13, which means that 48 000 diamonds cost around $800) a thirty-day period. Up to 20 managers and up to 1 200 players can participate in such a club.
Afore creating your own PPPoker club, it is important to take into account that:
Attracting players is a difficult task. You need to be credible, provide exciting games, fast withdrawals, avoid disputes, etc.
Marketing expenditures is an important thing. People create new clubs every day, and your club should be conspicuous. Some countries have fewer players than PPPoker agents;
You need to gain insight on the methods of payment. If you are going to create a PPPoker club to play for real money, then you will need to process payments and cashouts through methods of payment available to your target audience. E-wallets, such as Skrill, operate in different currencies and the absence of accounts in dollars or euros may be a negative factor for some players;
You will need a team: it is hard to cope with all the needs of the club on your own. Someone must take care of marketing, rakeback, payments, customer support, etc.
If you are not ready to create and run a personal club yet, we recommend joining PPPoker using our top deals. We cooperate with proven clubs, including from Asia and the USA. We guarantee safety of funds, accept payments to Skrill, Neteller and BTC e-wallets and help at all stages of registering and playing on PPPoker.