Post about betting on CS GO
Nice to see you
Greeting. Let's move on to the results of the last match.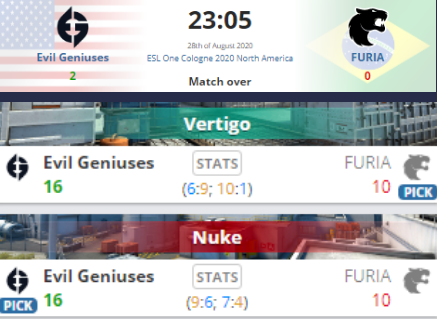 And the results are pleasant. Easy victory with a score of 2:0 from Evil Geniuses. Yesterday Evil Geniuses played their BO5 match, but l did not to bet on it.

In the end, they won, but with a close score.

Everything was decided on the third map. And for the odds of 1.5, l see no reason to take such risks, that's why l missed this match yesterday.
Heroic - Vitality grand final will take place today.

Match analytics:
Heroic has risen in the HLTV rating in recent months and is now in 9th place among the best teams. Heroic recently played DreamHacK and made it to the final but lost to BIG. In August they reached the final again against Vitality. This is a good indicator for a team of this level, but it is clear that they are playing better than usual. I think today they will show their usual result and lose the match.
Vitality this is their third final in a row, the last two they lost, l think they should win this one. A five-card match, so the luck factor in this match is minimal. In the last game they won Nip 2-0. This means that the team is in good shape now.
See you later
Overall rating of this post: