Post №6 NHL. Betting. 1 game
Hello friends.
In the morning I go with the children to the playground.

A surprise awaited us there, in the form of a broken bottle, collected the fragments for about an hour.
After lunch I started an advertising campaign to promote one resource and attract users.

The result turned out, although it could be better.
Betting.
Chicago Blackhawks - Edmonton Oilers
Series score 2:1 (Series up to 3 wins). Qualification Round. Play-off.
The next game is the end of the series.

I prefer Chicago Blackhawks handicap 0.
You can choose another option, more than 5.5 as the teams score a lot.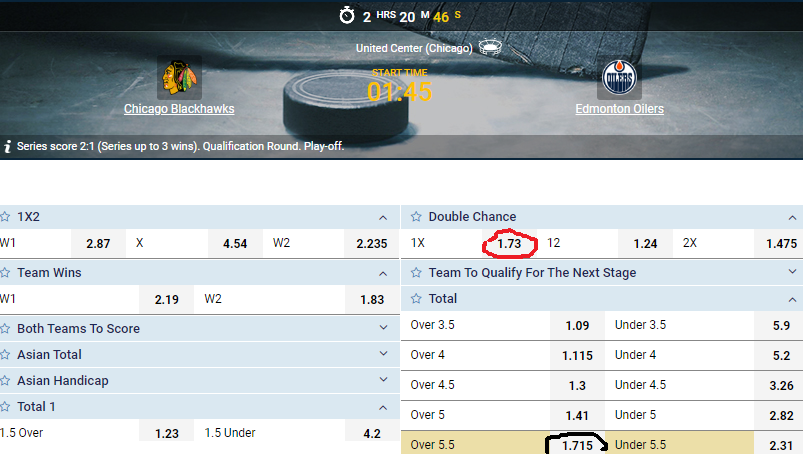 Results for yesterday.
St. Louis Blues - Vegas Golden Knights 4:6 (Win)
The game was dynamic and the favorite changed during the game.

Interesting from wikipedia.
The Chicago Blackhawks (spelled Black Hawks until 1986, and known colloquially as the Hawks) are a professional ice hockey team based in Chicago. They compete in the National Hockey League (NHL) as a member of the Central Division of the Western Conference. They have won six Stanley Cup championships since their founding in 1926. The Blackhawks are one of the "Original Six" NHL teams along with the Detroit Red Wings, Montreal Canadiens, Toronto Maple Leafs, Boston Bruins and New York Rangers. Since 1994, the club's home rink is the United Center, which they share with the National Basketball Association's Chicago Bulls.

Goodbye:)

Overall rating of this post: