GGPokerOK
Information about the room
Characteristics of the game room

Category "C" - new poker rooms that strive to attract players with the help of profitable bonuses.
Cashout speed
From 1 to 5 days
Players online
By day: 13 000, at night: 18 000
Support service
English-language support
First deposit bonus
Up to $1 000
Mobile application
IOS, Android
Satellites for the live tournaments
Online satellites to Belarus Poker Tour
Players who viewed this poker room are also interested in
GGPokerOK review in 2021
GGPokerOk (previously PokerOK) is a poker room in the GG Network, which has replaced LotosPoker. The room was opened in a beta mode in January 2019, and all players from Lotos moved to it, while sustaining their account balances. In December 2019, PokerOK changed its name to GGPokerOK. The GG network is currently the fastest growing network in the world. After entering the European market, it shows a steady increase in traffic.
The poker room has a bright future ahead, and it stands a good chance to become the flagship room in the GG network. This poker room is focused on Russian-speaking players, but players from another countries can also play here. Our detailed review on GGPokerOK will help you learn more about the poker room. We also provide support and special offers for players who register via our link.
Software review
GGPokerOK uses the Good Game network's software (NSUS INTERNATIONAL LIMITED)), which is considered one of the best in the gaming industry. All registered users can choose a suitable theme and filter a tournament lobby according to their convenience.
The lobby of the poker room is designed all in black. When you first login, you will be presented with several buttons. The first of them opens a tab displaying current promotions of the room. All other tabs of the menu show various types of games.
In the lobby containing cash tables, players are able to view tables, waiting lists, as well go through the complete list of games at all limits. But there is some problem with the filtering. A player can't keep only those tables and limits that interest him/her therefore there is a chance to register at the wrong limit by mistake.
Main lobby: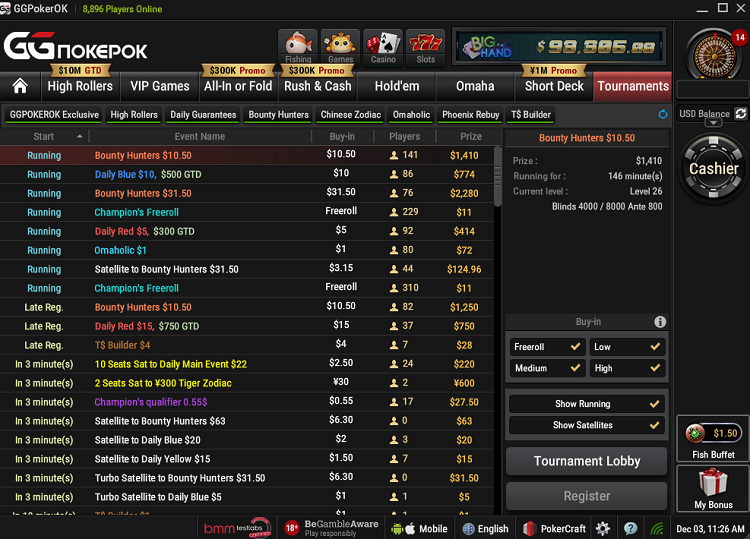 ​
Hold'em game table: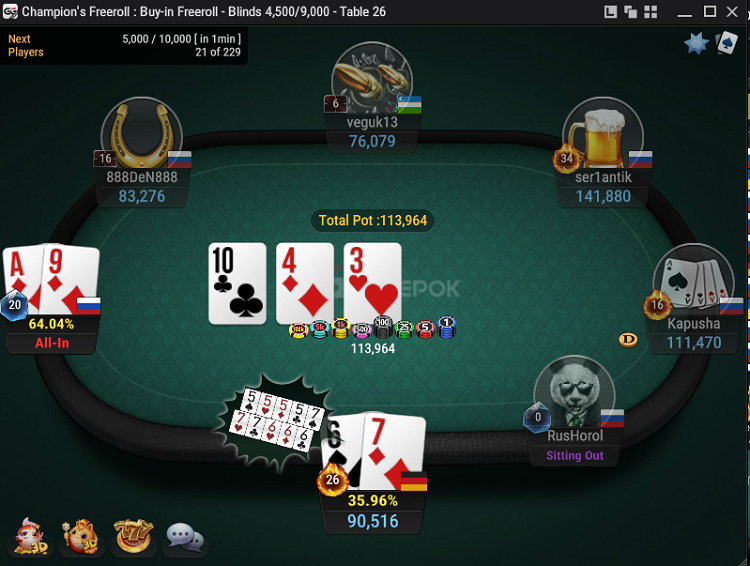 ​
The appearance of the GGPokerOK tables can be configured. You are also able to adjust Auto Rebuy and Bet Size. The card decks seem pretty nice, and their large size is very convenient for multi-tabling.
You can download GGPokerOK to your computer and mobile phone for free.
The registration at GGPokerOK runs as in most popular poker rooms. Just click on the "Download client" button at the top of the review or read our detailed article (with step-by-step instructions) on how to register and get verified at GGPokerOK.
GGPokerOK doesn't allow using poker trackers in the room, but players have the opportunity to collect information on their rivals. While playing at the table, you can make notes on your opponents. In addition, there is also an embedded Smart HUD client.
By clicking on the player's VPIP, you can get more detailed data. For cash tables, this is the number of played hands and the number of hands a player won at the current table, as well as three largest pots this very player played against Hero.
For such type of poker as All-in or Fold (each player has 8 blinds in the stack), the data is displayed according to the percentage of hands the player pushed all-in with.
You can find the results of your game in the embedded Poker Craft app.
The game availability and the traffic of the poker room
GGPokerOK users can plunge into the poker world starting from the lowest limit – NL 5. The number of tables in the room (by limits) is as follows:
NL5: starting from 17 tables and more.
NL10: starting from 15 tables.
NL25: 10-15 tables.
NL50: up to 15 tables
NL100: up to 12 tables.
NL200: up to 10 tables.
NL500: up to 5 tables.
NL1 000: up to 5 tables.
Fans of poker tournaments will be pleasantly surprised by the number of events that are held in the room. Most of the competitions have democratic buy-ins of up to $15, but there are also buy-ins for those who like to play big.
On Sundays, GGPokerOK holds tournament with a guarantee of $10 000 and a $300 buy-in. As for the high rollers, the room provides events starting from $500 and higher, which are in the tournament lobby. You can even find tournaments cost $25 000 that collect decent number of players.
Rake structure and rakeback at GGPokerOK
GGPokerOK charges commission of 5% in Hold'em and 3% in Omaha. There is no cap, which means that the raise amount is not limited, what's sad.
However, the poker room has a VIP-system within which you can get up to 100% cashback. This bonus points system is called Fish Buffet.
After you reach every level, you get the opportunity to spin the bonus wheel.
Loyalty program «Fish Buffet»
GGPokerOK has a VIP-system called «Fish Buffet» (the same that works at BestPoker), which brings players up to 100% rakeback. On average, poker players receive around 50% rakeback at high levels. Fish Buffet consists of 8 statuses: from Plankton to VIP. There are 24 various levels in the program.
For every $0,01 rake a player receives one FP point. To get to the next level of the VIP-system, you need to collect a certain amount of FPs over a set period. The higher the level is the more points are required. If a player fails to comply with the conditions (for the number of FPs within a given period), then he/she either remains at the current level, or falls back to the previous level. His/hers FPs will be cancelled, but the player will receive 10% cashback of the cancelled FPs.
When moving to the next level, a player gets the opportunity to spin the wheel. You may use this bonus immediately or activate it later in the "My bonuses" section. The prizes depend on a player's profile. If the player wins a cash prize, it is immediately credited to his/her account.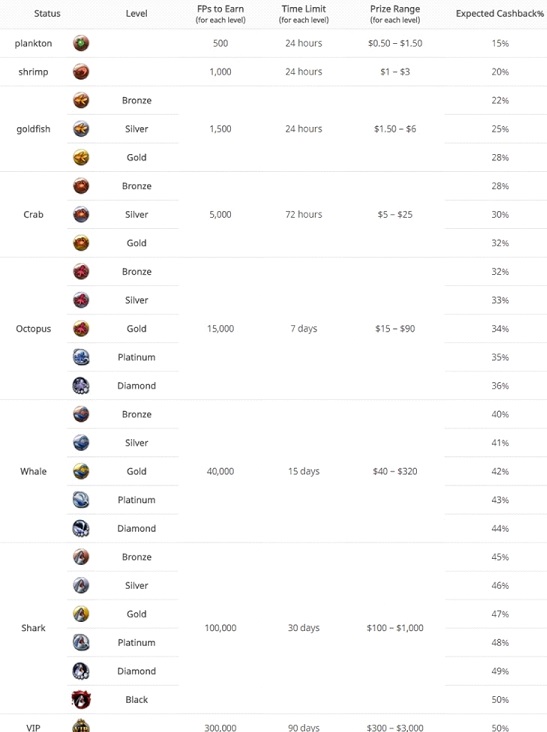 ​
Deposits and withdrawal of funds
Prior to making first deposit, you need to enter information about yourself (GGPokerOK verification).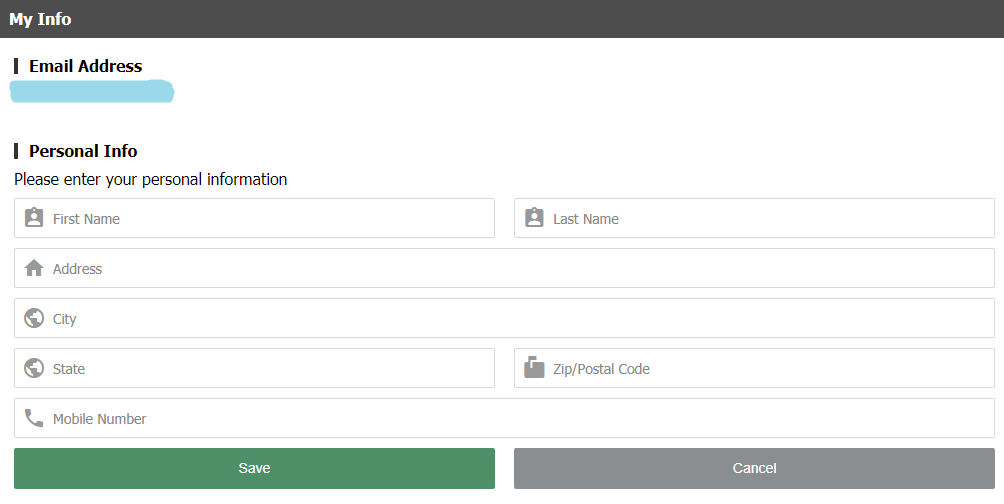 ​
This information should be filled in right after you decided to create an account at GGPokerOK.
Once you've filled in the necessary data, you will be presented with the available payment methods at GGPokerOK: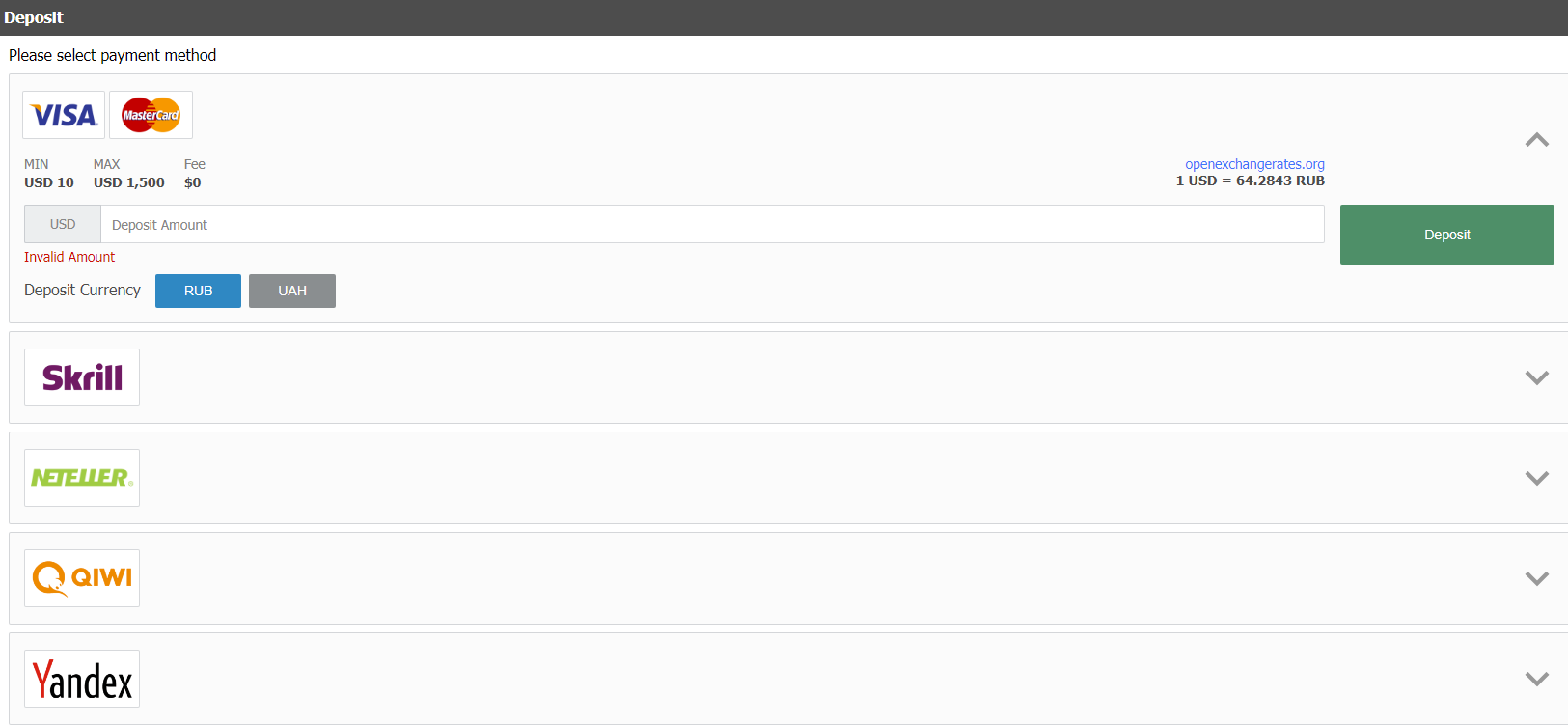 ​
The minimal deposit is equal to $5, and the maximal deposit amount reaches the mark of around $1 000.
Withdrawal request at GGPokerOK is available starting from $5, and it can be made through the popular e-wallets WebMoney, Skrill, Neteller, Qiwi, as well as Visa/MasterCard bank cards.
Payment systems:
Skrill
Neteller
WebMoney
Visa
Qiwi
Yandex
The minimal withdrawal amount: $5
The minimal deposit amount: $5
The maximum size of the one cashout is $5 000.
The period of withdrawal depends on the payment system (from 1 to 5 days).
GGPokerOK official website
GGPokerOK users have the opportunity to visit the official website of the poker room, which displays all the information on this room. Here you can register at GGPokerOK, download a client, get familiarized with promotions of the room, contact the support service, etc.
Pros and cons of playing at GGPokerOK
Good traffic in cash games and big selection of tournaments
Attractive promotions targeting different groups of players
A lot of weak players at the tables.
Ban on using poker statistics software
Slow work of a poker client
Current promotions of the room
The poker room offers a large number of promotions of GGPokerOK, and we will consider them all (some promotions are similar to the ones at BestPoker).
Welcome Bonus. GGPokerOK welcome bonus is received by all new players after registration. The room offers a Welcome Bonus of $1 000 for 180 days, players receive it in installments, $5 for every $50 of the generated rake.
Honeymoon for newcomers. All new GGPokerOK players can receive a GGPokerOK no deposit bonus of up to $150 by completing simple daily tasks for the first month from the moment they register at GGPokerOK.
AOF Jackpot. In hold'em, you can win the jackpot after collecting royal flush. Only hands that reach the showdown participate in the draw. At the moment, the jackpot has reached $500 000 and you have every chance to win it.
Big Hand Jackpot. Gather a combination of four of a kind, straight flush or royal flush, invest at least 15 blinds to the bank and get a big money to your account.
Short deck Giveaway. Players can get a bonus during the game on Holdem 6+ tables.
Promo for Rush & Cash players. Play at Rush & Cash fast poker tables and get some of the leaderboard prize pool.
Tournament package. In order to get tournament tickets worth $100 you need to play hands at All-in or Fold tables.
Flush Jackpot. Collect a strong combination and get a jackpot.
Bingo in All-in or Fold. Your pocket cards at All-In or Fold tables now also become bingo cards and you can get a big cash reward.
Conclusion
GGPokerOK is a new poker room that attracts users with a weak field of players, various promotions and great support service. As for the shortcomings – Holdem Manager and Poker Tracker are prohibited. This poker room is rapidly gaining popularity among poker players and is developing with every passing day.
FAQ
🌍 Can I play at GGPokerOK in Europe countries?
Yes, poker players from these countries can play at GGPokerOK.
💳 What is the minimum deposit at GGPokerOK?
The minimum deposit is $5.
📈 Can I use PT4, HM3 at GGPokerOK?
At GGPokerOK these programs can not be used.

⛔ What to do if GG Poker is not working?
Check your Internet connection, restart your computer and program. Email to support@ggpokerok.com.

💸 How to play GGPokerOK for free?
For a free game on GGPokerOK conditional chips (play money) are provided. You can get them in the room every day and play for free.

💁‍♂️ How to get verification at GGPokerOK?
Verification is carried out according to the standard procedure, as well as in other poker rooms. Send scanned copies of your documents to support@ggpokerok.com.

🚂 Are there any satellites for live series?
GGPokerOK hosts live poker series satellites where you can take part for free or for a small buy-in.

📧 How to contact poker room support?
You can contact the poker room support service by email at support@ggpokerok.com or in online chat on the official site of the poker room.

🎁 Is there a no deposit bonus and first deposit bonus?
GGPokerOK has a Welcome Bonus of $1 000 for 180 days. Activate your GGPokerOK bonus after registration, generate a certain amount of rake and get a cash prize.

🎭 Where did PokerOK go? What is the difference between GGPokerOK and PokerOK?
Since December 2019, PokerOK rebranded and changed its name from PokerOK to GGPokerOK. The room itself has not changed.