Poker. Omaha NL2 (GGPokerok)
Hello!
Played Omaha nl2 today. Everything was fine at first and I was increasing my stack. I want to show you how I won a big pot.
I have a good starting hand, AAK8. I place my bet right away. I stay with my opponent one on one. The flop gives me two pair. The rockets are resting for now. I ended up betting three streets and just getting call. The king on the turn gave me the opportunity to be bolder. An opponent already had a strong hand on the flop. There was a cooler, it's good that I won.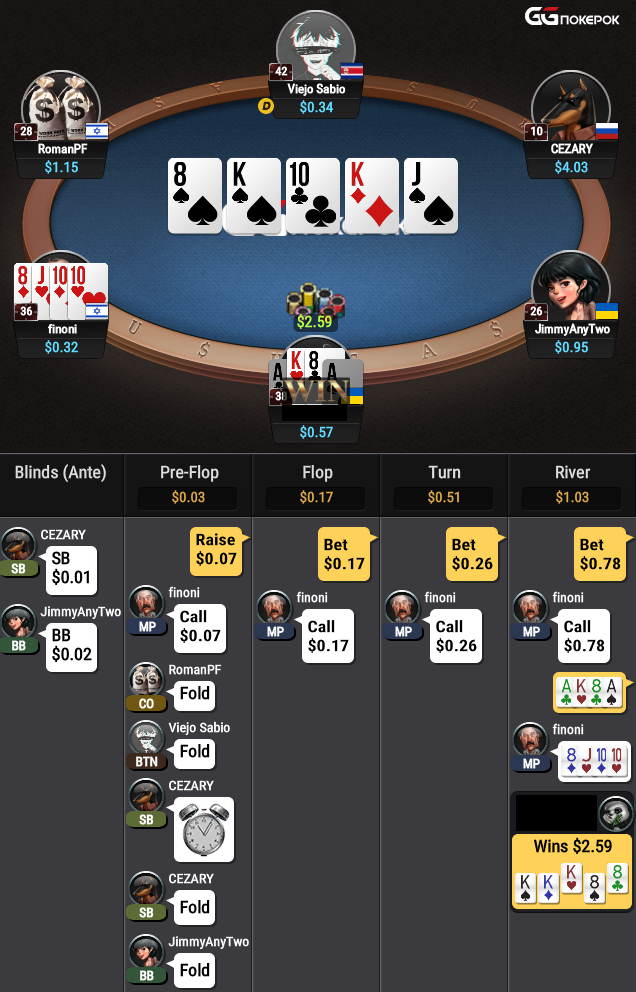 NHL
Dallas Stars - Vegas Golden Knights (Dallas Stars leads series 3-1.) I still believe in "Vegas". Now they have no room for error. (Small forecast. I think in the next game the total will be less than 5.5, as in the 4 previous games.)
New York Islanders - Tampa Bay Lightning (Tampa Bay Lightning leads series 2-1.) In this pair I am for "lightning". They show an excellent game.
Molly's Game (film)
Molly Bloom (born April 21, 1978) is an American entrepreneur, speaker, author of the 2014 memoir Molly's Game: The True Story of the 26-Year-Old Woman Behind the Most Exclusive, High-Stakes Underground Poker Game in the World, and convicted criminal.
What did I look?
A film adaptation of the book, called Molly's Game, written and directed by Aaron Sorkin, premiered at the Toronto Film Festival on September 8, 2017. Jessica Chastain plays the role of Molly Bloom.The film received a 2018 Academy Award nomination in the category Best Adapted Screenplay.
If you have not seen this movie, then add it to your list of movies to watch. The games that Molly hosted were played by celebrities.
Good luck everyone and win.

Overall rating of this post: