Phil Ivey lost one of his most loyal fans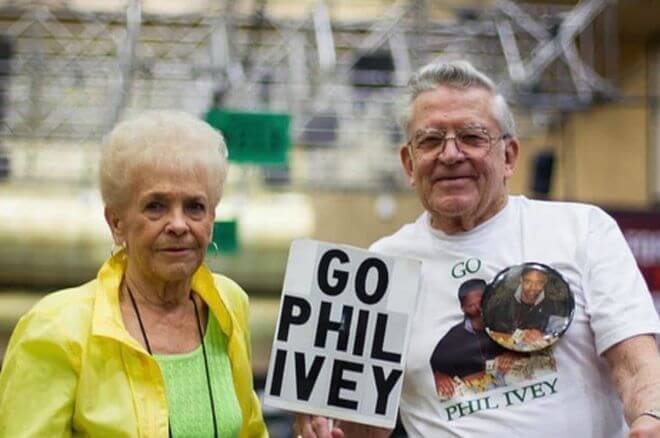 Sad news for poker fans, Pat Humphreys passed away at the weekend. For those who don't know this person – she was one of the most devoted Phil Ivey's fans.
Pat and her husband Mel met the poker legend when he was 18 and played using a fake ID card at the $1/5 stud tables in Atlantic City. The couple has become friends with the player and a part of his family over the years. They often attended poker tournaments with Ivey's participation, supporting the guy in every possible way.
Poker commentator and presenter Norman Chad has confirmed the sad news on his Twitter page:
Pat Humphreys passed away this weekend.

Nothing defined the joy of the WSOP Main Event more than Pat & Mel Humphreys on the rail, w/ their Phil Ivey signs chanting, "Ivey! Ivey! Ivey!"

They were a delight to see & talk to each year.
The poker world's heart goes out to you, Mel.

— Norman Chad (@NormanChad) 3 березня 2019 р.
This information has sparked a lot of reactions on social networks since Pat and her husband supported Phil Ivey at the World Series of Poker for almost 20 years.
According to Daniel Negreanu's tweet, Phil Ivey paid the last visit to his most faithful supporter (in the hospital) before she met her death:
She will be missed! Had the pleasure of speaking to here just weeks ago on FaceTime as Phil Ivey visited her in the hospital. RIP Pat.

— Daniel Negreanu (@RealKidPoker) 3 березня 2019 р.
Cardmates journalist, news editor and translator since 2018. Specialization: poker news and review of events.