Nanoexperiment (part3): SnG $ 3.50
The first pair of limits flew by easily and naturally. I can't say that I completely dispelled the myth that the HUD was greatly overestimated, at least at low limits. But at the same time, I wasn't been lost without him. Moreover, you pay more attention to what is happening at the table, since there are no distracting numbers. It would be informative to play 1000 or 1500 tournaments in order to smooth out variance ejection and see results (and sensations) that would remain at a longer distance. But to spend such time will be an impermissible luxury, so we will remain in the intended format.
There are some nuances with table filling at 3$ limits. There are no problems or difficulties, but there are already nuances. I got my six tables without much tense, even in dead time. But with the increase in the number of tables, the waiting time has to be slightly adjusted. In this case, you will take into account the waiting time and it will already have some effect on the playing hours.
The game, per se, has become more fun for me. Perhaps it was influenced by the fact that two hundred tournaments in this format have already been played. Maybe the game has become a little more competitive, and that's why it's more interesting. The pleasures of the process, as well as confidence in good results, became only greater. Surprisingly, the sense of advantage has increased compared to previous limits. In addition, the rake decreased from 13.6% to 10.8%, and this is serious.
Results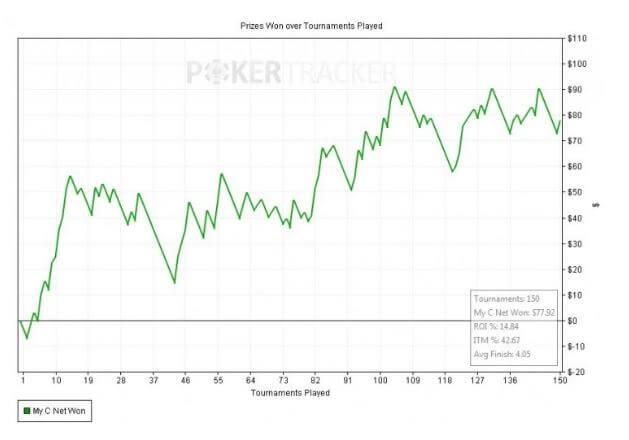 This time I made the chart a little different. It should be seen as better.
The result is cosmic. Moreover, this time the distance is longer, and the excess of the chips is much smaller. Of course, I don't think that my EV is around 15% ROI, but a number of 8-10% seems potentially achievable. And this is among $ 280 - $ 350 per month if you play at 1000 tournaments.
Comparison of the passed limits:

Comparison by standings: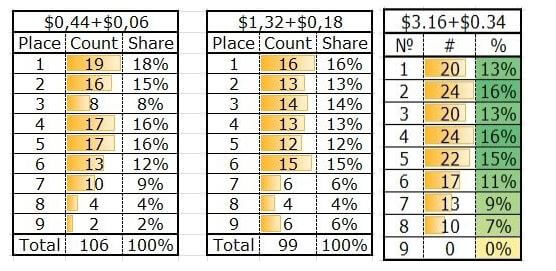 And yes, there is no typo here. I have never had the chance to slump out first for all 150 tournaments. Such a nice outburst of variance. In general, the sensation of enchanting flight is not only preserved, but also enhanced. I'm already becoming curious at what limit I'll be finally accepted or I'll hit a downswing, or maybe there will be a 2-in-1 fresh effect.
The next stop is $ 7.00. The plan is the same: 5 days, 150 tournaments.

Overall rating of this post: