Nanoexperiment 5
The end of the sinecure at the Sevens was both expected and comprehensive. In the bad hours of tables I had to wait for a tangible time, and the compositions in them stopped to be so delightful. The field has noticeably tightened, and playing without a HUD has become uncomfortable. The number of situations sharply increased in which I felt that I was either losing or I didn't understand something, which was often the same thing.
Playing only 6 tables and having a lot of time to watch other players, I felt some element of dissatisfaction from the Uber-over-grinders. Such guys who play too many tables and as a result spend almost all available time on each action, fall into sit-outs, and in a wink leaving into scripts. And so on in a circle for every preflop fold. I wonder what their ROI is.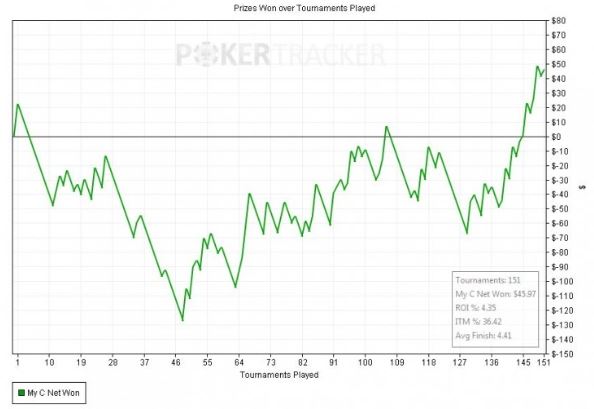 Limit $ 7.00
Despite the fact that the easy walk is over (+ upswing is stopped), I am satisfied with the results. I am pleased that I felt how I can carry out the initial adaptation. I am satisfied that I was almost sure that I can plus on this limit with a serious approach. don't know how much, but it's already not bad.
I would probably try the limit of $ 15 in the same way. I'm curious to see how I will adapt and fry on some existing knowledgeм without any outside help, and even without at least some kind of HUD. But the limit of $ 15 is already clearly beyond the borders of the nano-experiment, so we will postpone this idea for later.
In general single-table, SnG left a good impression. There is interest in studying the discipline; there is a desire to try higher limits. At least I won't stay completely without options at the end of the experiment.
The general schedule of all ST SnG $ 0.50- $ 1.50- $ 3.50- $ 7.00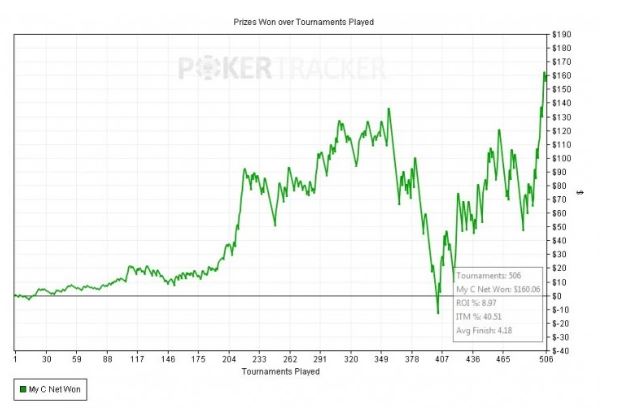 And, of course, it is always pleasant to give a plus, albeit in large part due to the upswing.
Limit Results Comparison

Comparison of standings by limits

Overall rating of this post: