#N8BIGBADBEATS: get $50 for bad beat at Natural8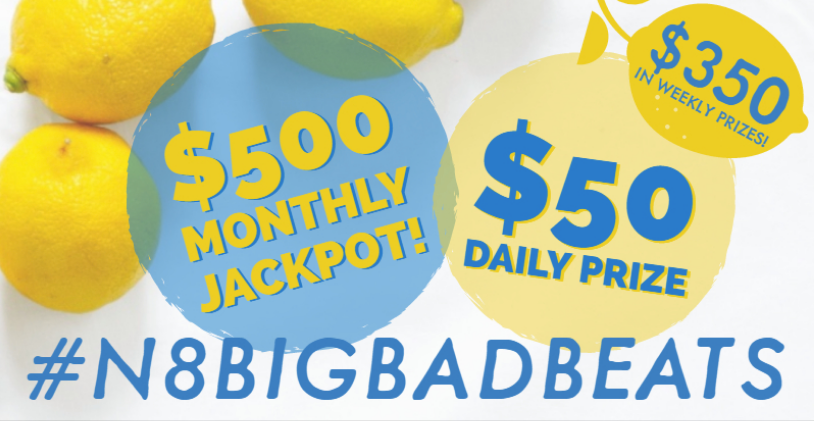 ​
Poker room Natural8 daily provides a chance to win $50 if you share such an unpleasant moment as bad beat that happened to you while playing in the room.
The bad beats may occur at any moment of the game and to any poker player – newbie or an advanced professional. No one is safe. To relieve players' «pain», the poker room introduces a reward of $50 that will be given for facing bad beat at its tables. If you've suffered from this unpleasant blow in the room, go to Natural8 pages on social networks and describe your story by specifying the #n8bigbadbeats hashtag.
How to participate in #N8BIGBADBEATS
In order to take part in the given promotion, one needs to accomplish only two simple steps:
Take a screenshot or shoot a video indicating the bad beat with your participation.
Publish the «proof» on one of the four social networks of the poker room (Twitter, Instagram, Weibo or Facebook) by indicating the hashtag #n8bigbadbeats. Be sure to write the ID# of the hand, during which the bad beat occurred, in your post.
Who can be the winner?
Natural8 is to give a prize in the amount of $50 to the user who experienced the most unsuccessful bad beat. Such awards will be issued daily.
Mandatory condition: the winner is required to have a better chance of winning (than the other participants in the hand) after shoving, but lose his hand at the showdown.
The Natural8 representatives will choose the largest bad beat to be the winner of the day (basing on the lowest percentage of failing when pocket cards are shown).
Read also: 200% first deposit bonus from Natural8
Principal conditions
Only Natural8 users are able to participate in the given promotion.
Pot-Limit Omaha and Hold'em cash games, Shot Deck, AoF, Rush & Cash, as well as tournaments fit to participate in the action. The competition does not cover bad beats that happened in freerolls.
Only those bad beats that occurred on the day of placing the post from 00.00 (UTC 0) to 23.59 (UTC 0) can claim the $50 prize.
The first one to provide the «proof» of facing the bad beat jackpot will receive a special reward «Bad Beat Jackpot». For this, You have to collect a full house and outpace other participants at the time of opening the cards:

For Hold'em: full house (TTTAA) or above.
For Omaha: full house (AATTT) or above.
Players should also use both pocket cards to complete their hands to receive the Jackpot Рrize.
Natural8 will announce the winners on the aforementioned social media.
The lucky users are given 14 days after announcing the winner to receive their prizes, otherwise the room retains the right to deprive you of the award.
Cardmates journalist, news editor and translator since 2018. Specialization: poker news and review of events.