Maurice Hawkins owes backer $100,000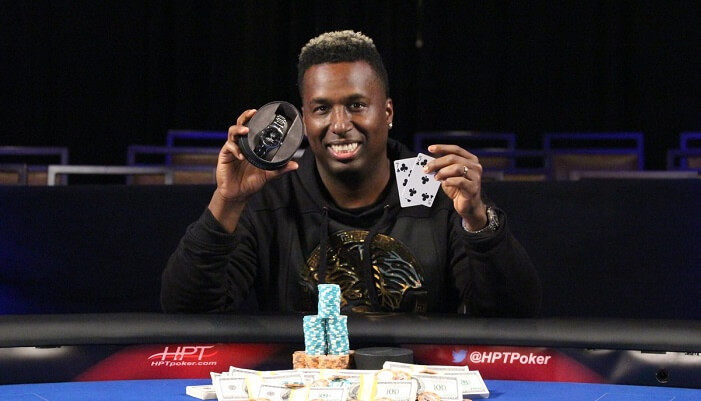 Maurice Hawkins is a record holder in quantity of WSOP Circuit rings. He won 13 rings and it made him the first one in the leaderboard on this indicator.
Some days ago Maurice appeared in the headlines of the news and this time it concerned the debts. Poker media writes that the multiple WSOP Circuit winner owed backer over $100,000 over the past two years, and now he is threatening with judicial process concerning this debt.
The following message appeared in twitter of Randy Garcia:
PSA no one ever stake @mauricehawkins. He has owed me $103k for 2 years now. Have proof of him confirming this. Keeps saying to me "be patient" after he has cashed for over $1m yet still refuses to pay. Have filed a lawsuit against him. Please retweet this to help spread the word

— Randy Garcia (@RandyViva2) 15 июля 2019 г.
Hawkins appeared in the headlines of poker news more than once over the years. It was the stories of success and victories, as well as the disputes and lawsuits. Last year, he faced with a public humiliation and lawsuits concerning the backing deal.
In that incident, the partner of the law firm Hal Lewis called him "a cheater, angle-shooter and bully", as well as a "scumbag", however ultimately the matter was settled out of court and was found to be a "misunderstanding".
Now Randy Garcia decided to tell the poker world about another contentious situation with Hawkins.
News flash @mauricehawkins blocked me. Apparently he blocked me and THEN decided to respond 🧐. So since he responded and is trying to downplay the situation, I guess I will tell my story. In 2017 he solicited a backer on Twitter. We chatted on the phone and worked out a deal

— Randy Garcia (@RandyViva2) 17 июля 2019 г.
According to Hendon Mob data, WSOP Circuit record holder won more than $375,000 over the past year. In total, Hawkins' winnings over his entire career in the tournaments are $3,789,831.
After 2 years I have been more than patient. Can you imagine if Maurice won a tournament and the casino said "we'll pay you someday, just be patient". I have kept this private between us, but after 2 years enough is enough.

— Randy Garcia (@RandyViva2) 17 июля 2019 г.
At the moment, the situation between Maurice Hawkins and his backer remains unresolved...
Cardmates journalist, news editor and translator since 2016. Specialization: poker news and review of events.