Is PokerStars still №1?

​
PokerStars is considered the number 1 in the world for many years. This is due to brand awareness and its reputation. Despite the fact that PokerStars reputation was tattered in 2014 in the eyes of regular players because of change of management, the quality of services provided and brand popularity remained at a high level.
The company actively advertises poker room for the new players and promotes online room at its prestigious offline events, including European Poker Tour.
PokerStars ambassadors, such as poker players, sports and cyber-sports players are engaged in its popularization.
PokerStars' profitable offers and bonuses play an important role in promoting the brand. All this in conjunction leads to a situation in which online poker still ranks first in the traffic inside the room.
According to Pokerscout.com data, as of the end of July 2019, PokerStars gathers thousands of players at its tables. On average, about 6,000 players gather at the cash tables, and during the peak hours their number exceeds 10,000. If to add the tournament players to their number, then about 25,000 players are in the poker room simultaneously.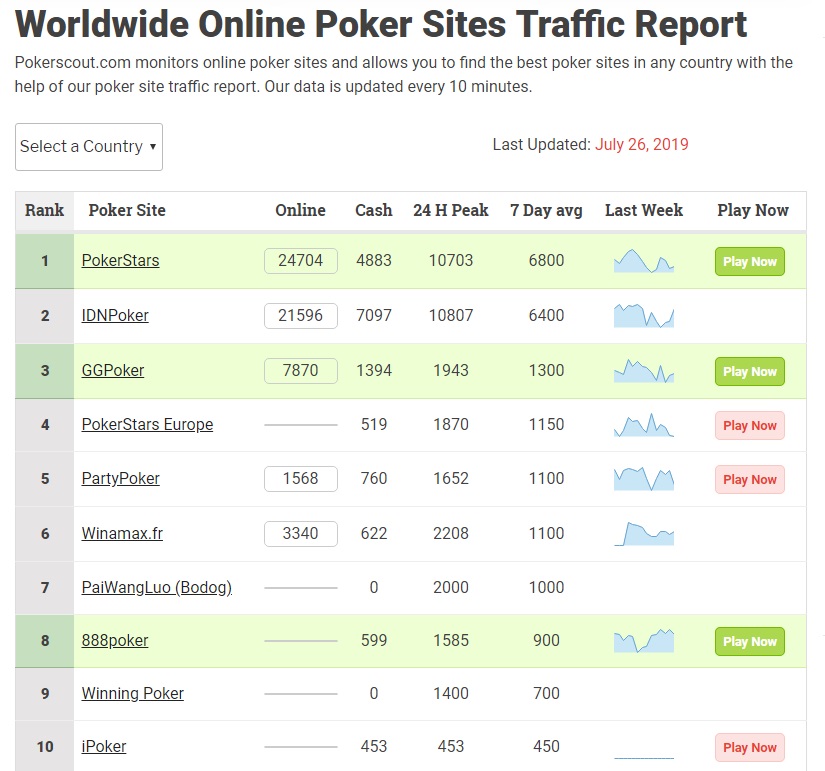 ​
Asian network of the poker rooms IDNPokerтарs network competes on equal footing with PokerStars. It offers its services in China, Indonesia, the Philippines, Malaysia, Thailand and Vietnam. Sometimes during the peak hours, an activity at the cash tables in the rooms of this network even exceeds PokerStars. However PokerStars remains the first one on the European market.
GGPoker, 888poker and, of course, PartyPoker can be called the active competitor of PokerStars in 2019.
PartyPoker's reputation has improved so much over the past 2 years that this poker room floated to the top in a circle of professionals and became a kind of "last stronghold" of  unpleasant for them PokerStars' policy.
Therefore, many ex-Team Pro PokerStars left PokerStars ambassadors team and joined PartyPoker team. The brand is actively developing not only online, but also offline. The founder of EPT John Duffy is engaged in promotion of PartyPoker LIVE series.
Certainly, it impacted on the popularity of the poker room, but according to Pokerscout data, it's still far from PokerStars traffic.
Cardmates journalist, news editor and translator since 2016. Specialization: poker news and review of events.