ICMIZER review
ICMIZER is a professional program for MTT, SNG, Spin&Go tournaments players. With the help of this program, you can analyze your hand, make the most profitable decisions on preflop according to the ICM model (Independent Chip Model) and FGS (Future Game Simulation).
You can use ICMIZER on your mobile phone.
What is ICMIZER?
ICMIZER 3 is a special poker calculator that is the most efficient at the late stages of a tournament. It models different tournament situations and you need to choose the right decision. The program will tell you when to go all-in and when to make a call/fold; it will also explain why you need to push and why to muck the cards.
You don't need to go into analytical theory, make deep calculations, read a lot of poker and math literature, learn to make predictions – the program will do it for you but much faster and more precisely.
It is important: you can use ICMIZER only beyond a game session (when a poker room client is not open). Don't open the program along with the client since you can get a warning or even a ban from a poker room for this. If you want to use ICMIZER during the game, better open a mobile version of the program.
ICMIZER will be useful in many of game moments but it is the most efficient to use the program in the following situations:
When a player on SB position goes all-in and you need to decide: to call or to fold.
When it's difficult for you to imagine how to play on MTT bubble.
You seldom reach a final table with a big stack.
When to go all-in with 5 BB stack.
Button steals the blinds very often.
Game with a big stack against a small one with a weak hand.
Game with a medium stack (10 BB) with a medium hand against an opponent with the big stack who goes all-in.
Capabilities of ICMIZER 3
ICM calculations that take into account a lot of different factors and display game options against every of 169 possible hands;

​

​In MTT the calculations are carried out up to the final table, besides other things you can analyze tournaments with progressive knockouts in ICMIZER 2;
Every stage of calculations has a detailed analysis through which correct obtained results can be seen;
Visualization of hands at the poker table for easier perception of information;
Possibility to edit actions;

​

​Development of charts;
Applying of Nash equilibrium;
It is easy to create tournaments of different formats for their further analysis in the program and a process of their creating itself is very fast;
Downloading the hands and even entire tournaments from most popular poker rooms;
Displaying a list of downloaded hands in a form convenient for perception;
Possibility to shift a hand in Replayer immediately (if it is available);
The program has several levels of FGS depth which allows you to make predictions more precisely.
ICMIZER 3 SNG Coach (trainings)
Since soft is prohibited to use during the game, it would be nice to practice in push/fold strategy. SNG Coach will help you with this.
In essence, SNG Coach replaces classes with a coach. Each day, 120 questions are available to users, which can be roughly compared to 2 hours of poker training.

Pro-subscription holders can purchase an additional 5 000 SNG COACH questions for more intensive workouts.
ICMIZER3 upgraded the SNG Coach module. The changes affected the screen interface with questions and now tasks appear one at a time, and not all at once as before.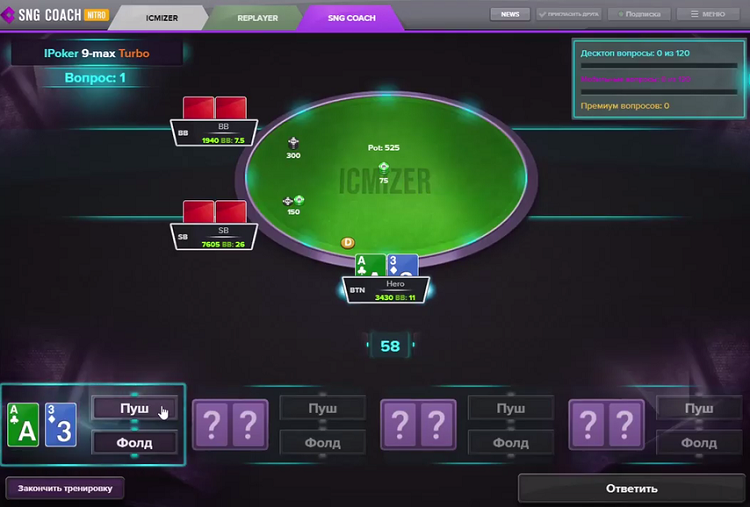 ​
It is also now possible to adjust the training parameters. With it, you can work on weak points in your game.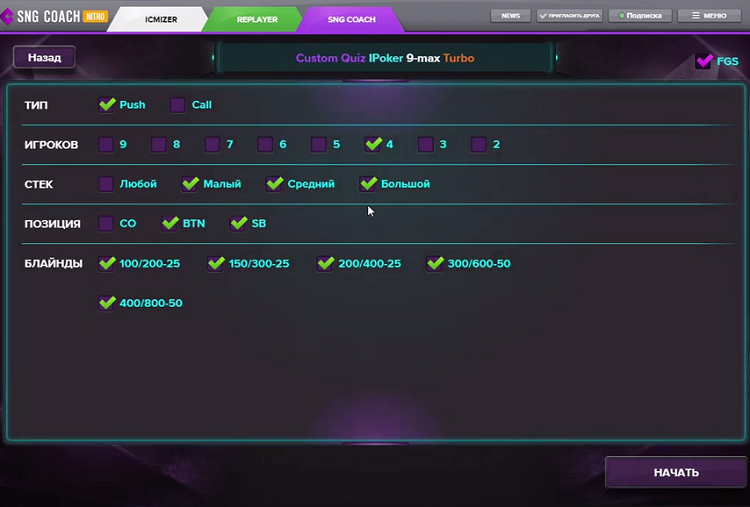 ​
Replayer (hand replay)
You can replay, analyze and review any hand, which is stored in a hand history, in ICMIZER if necessary.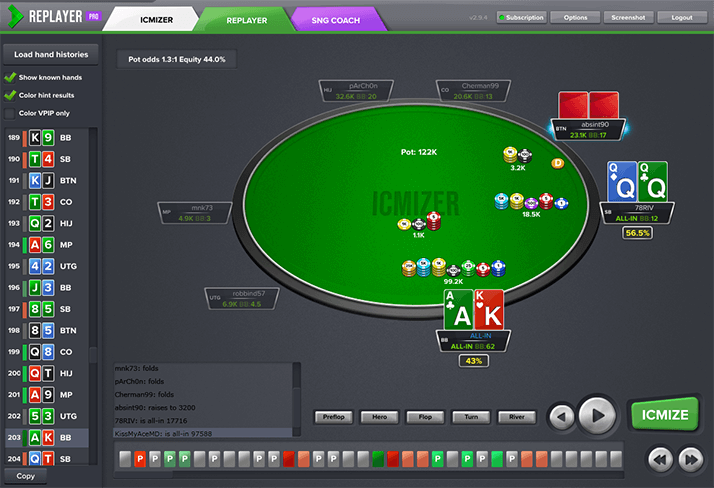 There is a possibility to sort your hands by the size of the won pots, by the type of action (your all-in or call of other players' all-in).
ICMIZER 3: how to use?
Despite the great functionality, it will not be difficult for a poker player to use the program. For convenience, a company that created the software recorded a long video, which demonstrates ICMIZER 3 setting for beginners.
How to use ICMIZER 3 (broadcast recording from software creators):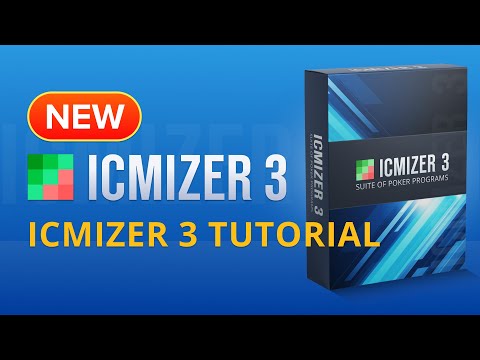 ​
Also, you can read tutorial materials at the official site of the program by selecting "Support" – "Training" in the upper menu.

Poker rooms where you can use an application:
Microgaming network (for example, RedStar)
iPoker (for example, WilliamHill, TitanPoker, NetBet)
And also Winamax, Winning Poker Network, LotosPoker, Bovada.
System requirements
Operating system Windows 7,8,10 or Vista (64-bit), or Mac OS X 10.10. and also an installed Silverlight plugin.
What's new in ICMIZER 3?
In the ICMIZER2 version, in order to calculate the range at another position, Hero had to be moved to the right place. Now, calculations have already been made for each position, and the results are easy to view.

ICMIZER3 has a new ability to set the weight of the hand. Use the top slider or mouse wheel. Hover over the desired hand and scroll the wheel.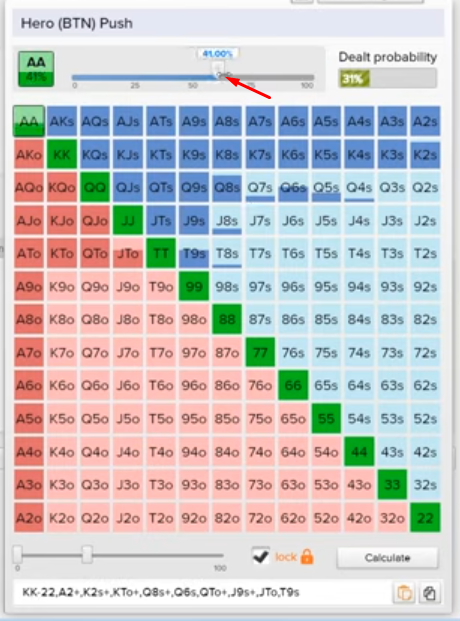 ​

After making changes to the range, an automatic lock occurs with a checkmark on the Lock item. After that, the equilibrium ranges will be calculated for all positions at the table.

After clicking on the Calculate Hero button, the program will calculate the best range. After you click on this indicator, the indicator for each player is calculated taking into account the blocked ranges. From the frames of different colors, you can determine the range.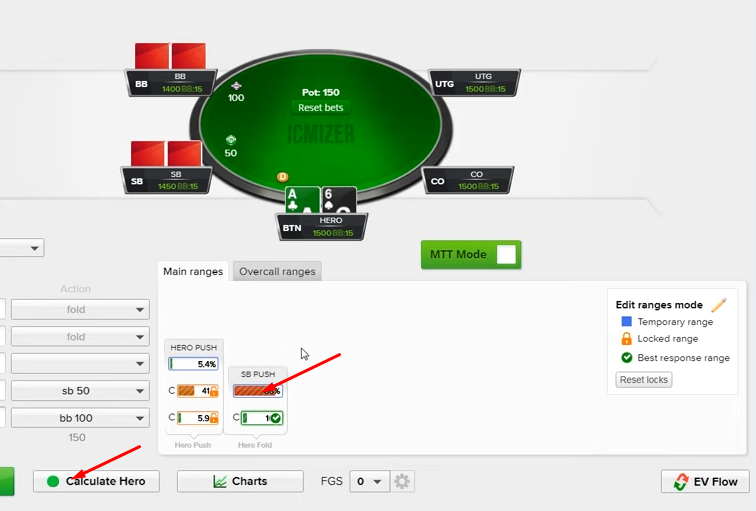 ​

Automatic hand analysis without NITRO mode
In the new version, the ability to automatically analyze their tournaments has become available for all subscribers. In the previous version of ICMIZER, you had to pay extra for this feature.

In order to make an automatic analysis of hands you need:
Download tournament file
Indicate the number of chips in the game
Enable MTT Mode.
After that, a list of hands with errors will appear in the left block. They will be arranged in order from gross to minor. You can find out any mistake in a certain hand and make your own corrections.
In the automatic analysis, you can find out the remaining number of participants by the number of chips. Calculations can be used until the moment when the tournament will be more than 500 people.
Price of the application
There are two variants of ICMIZER subscription: Basic (only ICMIZER) and Pro, which also includes SNG COACH and Replayer besides the main program. Replayer and MTT Coach are not available in the Basic version.
You can buy an annual or a monthly subscription.
The cost of an annual PRO-subscription is 160$ a year (13.33$ a month)
The cost of an annual Basic subscription is 80$ a year (6.67$ a month)
Monthly PRO-subscription costs 30$ a month
Monthly Basic subscription costs 15$ a month
Buying the annual version you save 55%. Besides, you practically don't take a risk, since by making the annual subscription you have a right to refuse it in 30 days and to get its cost back.
How to get ICMIZER 3 for free
You can use a free account that provides several calculations a day, namely: 3 ICM calculations and 1 calculation of Nash equilibrium. With such conditions you can download ICMIZER for free and use it all the time. You will be able to use all functions of Basic-subscription but only with a restriction of calculations a day.
Let's summarize: there is a powerful soft in front of you that is designed to improve your game. If you are serious about poker and consider the game as a way of extra income (perhaps even the main one), we recommend you to download ICMIZER 3 and to try using the program for free.