HUD settings for PokerStars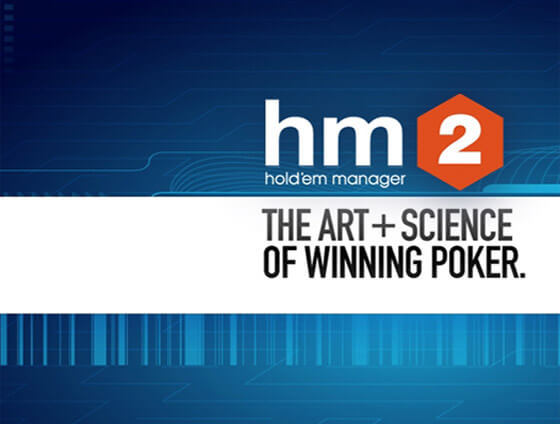 A lot of PokerStars' users seek assistance from the most popular program for stat tracking – it is Holdem Manager2. It is not surprisingly because it helps the players to increase theirs winrate and climb the limits much faster.
Instructions for settings of Holdem Manager2 for PokerStars
1. Download PokerStars client to your computer (it is necessary to use English language during the installation process).
2. Create two folders "Cash" and "Mtt", where your hand history for cash-tables and MTT tournaments will be stored.
3. Run HM2 and open the menu "Site Setup"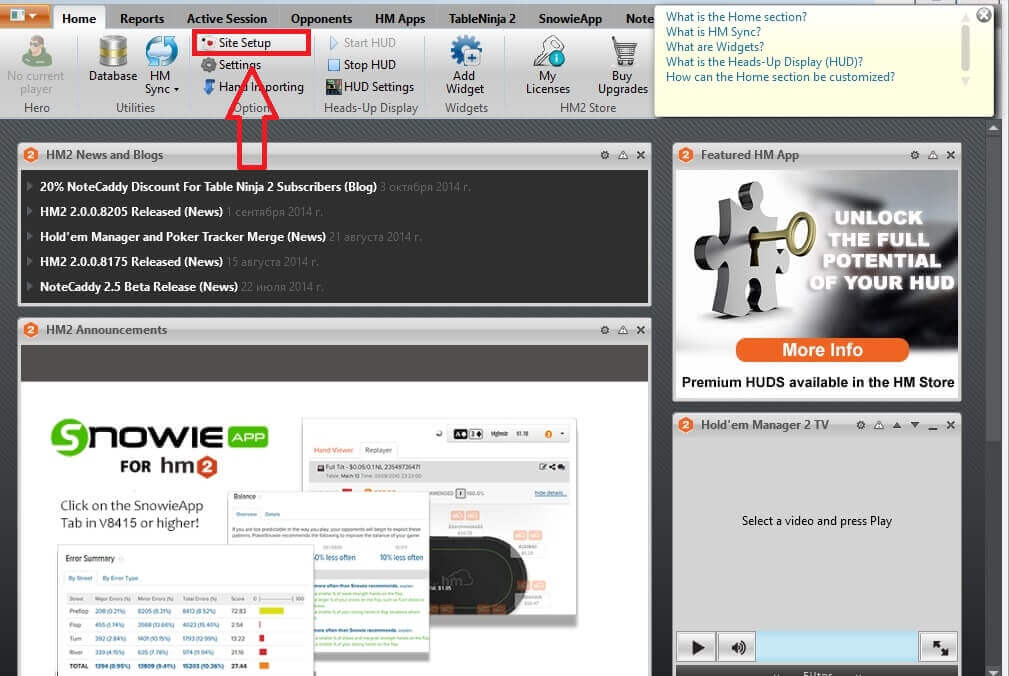 4. The list of poker rooms with which your HUD operates will appear in front of you. You should select PokerStars.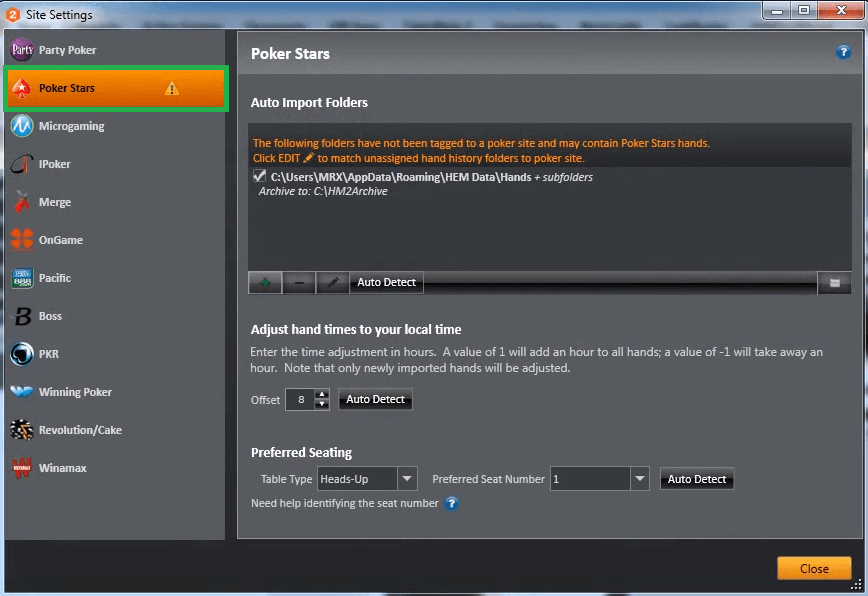 5. Then you should click "+" and add in sequence the folders that were created beforehand.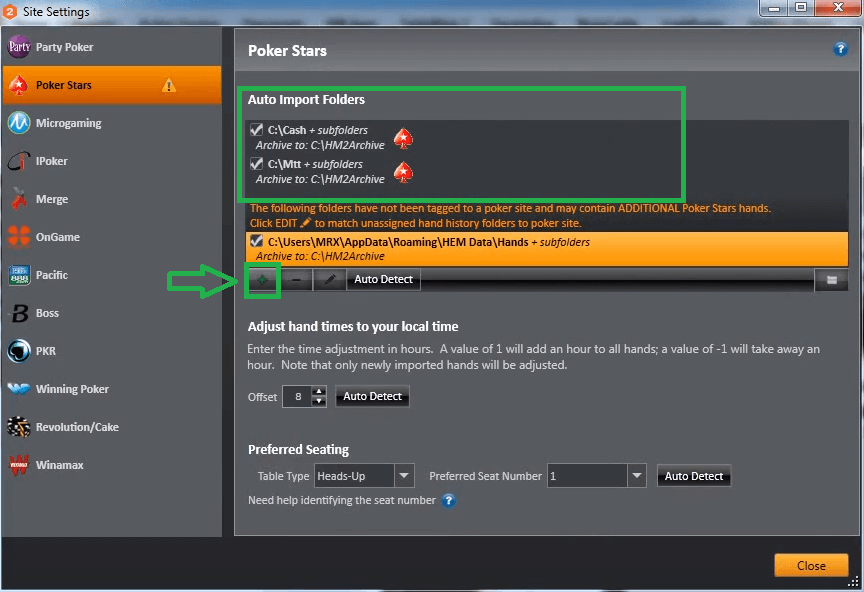 6. The standard way of backup is also visible in this popup. Click it and then click "pencil". After it you should put a checkmark in the "Include sub-folders" and click "ok".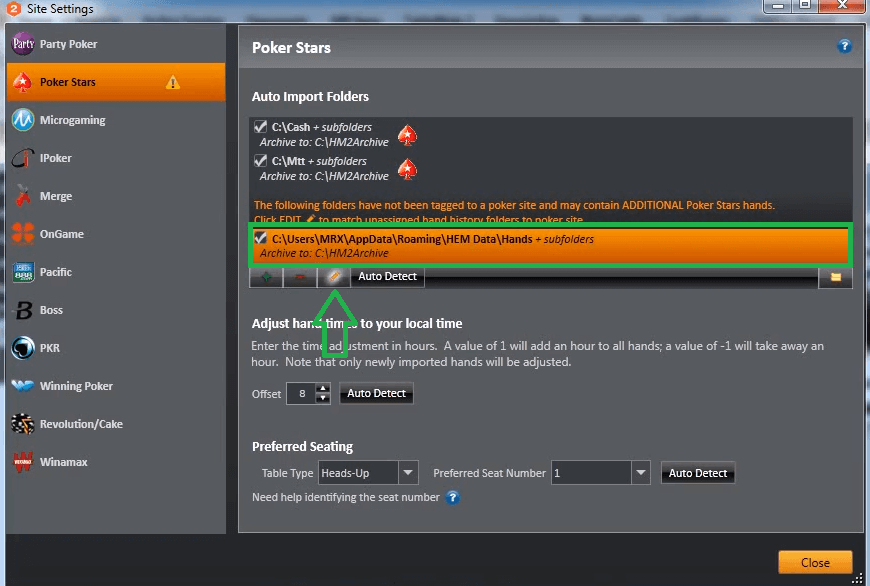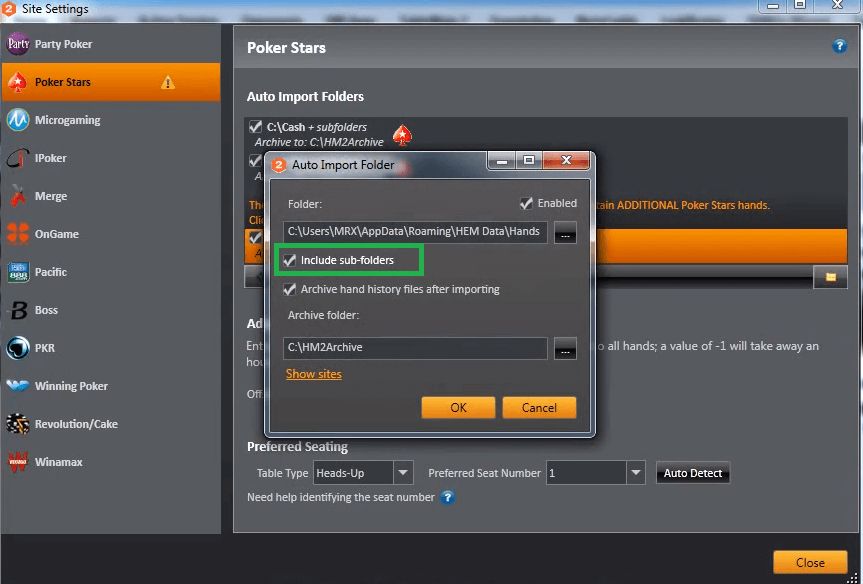 7. After above-described actions you should press two buttons "Auto Detect", after it close the window and click "Close".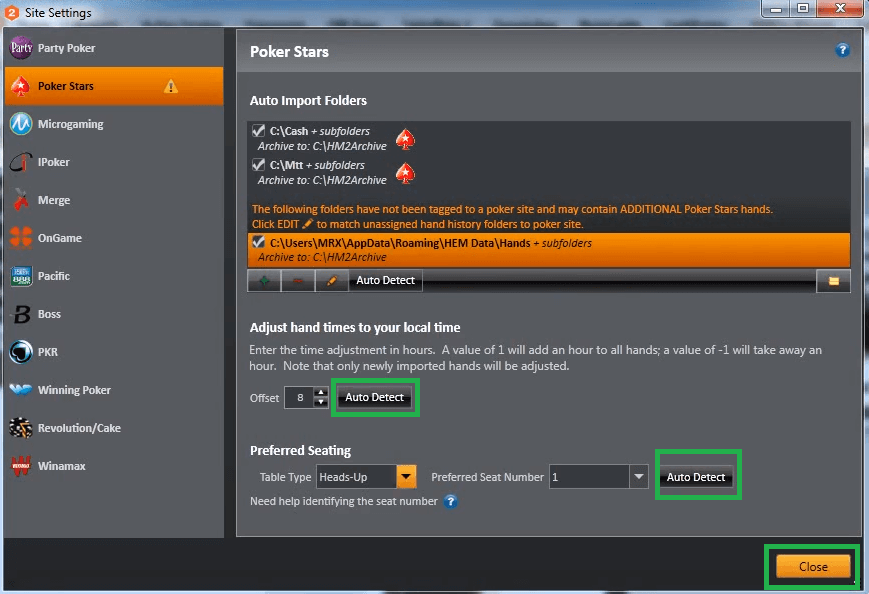 8. Open PokerStars client and after it click "Settings" → "Table Appearance" → "Preferred seat". In this window you should put a checkmark in "Don't Auto-Center me" and put checkmarks for every table in a manual mode.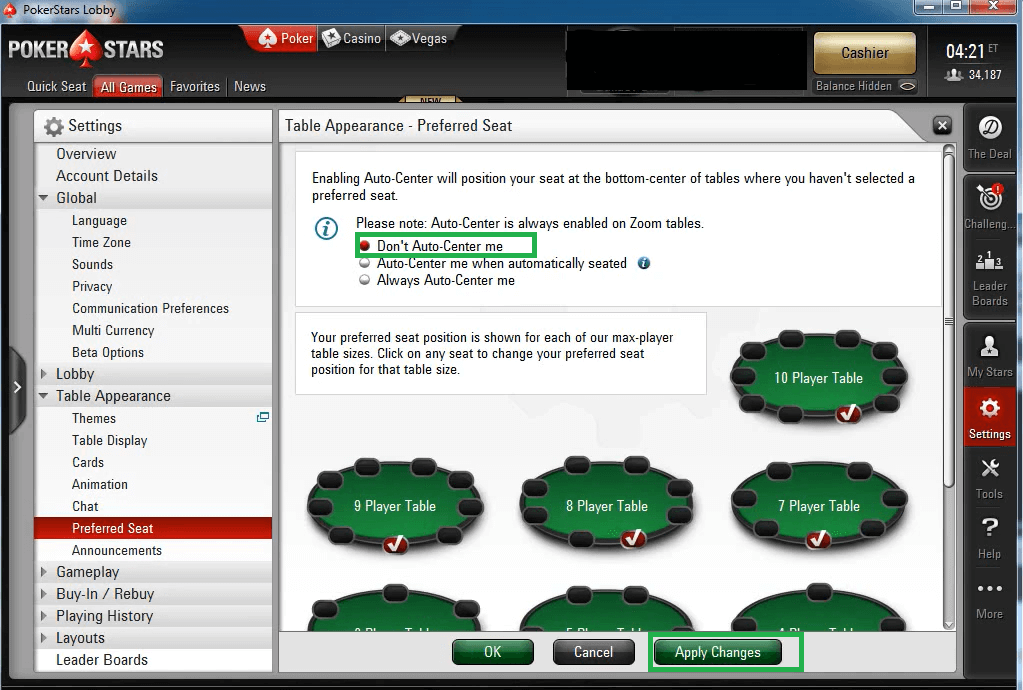 9. Then it is necessary to point out the folders for a poker room where the hand history will be imported. Click "Playing History" → "Hand History" → "Change Folder" (here you should select the folder «Cash»). Also don't forget to put a checkmark in "Save My Hand History" and in the field "Keep Hand Histories" you need to set a maximum number of days – 9999.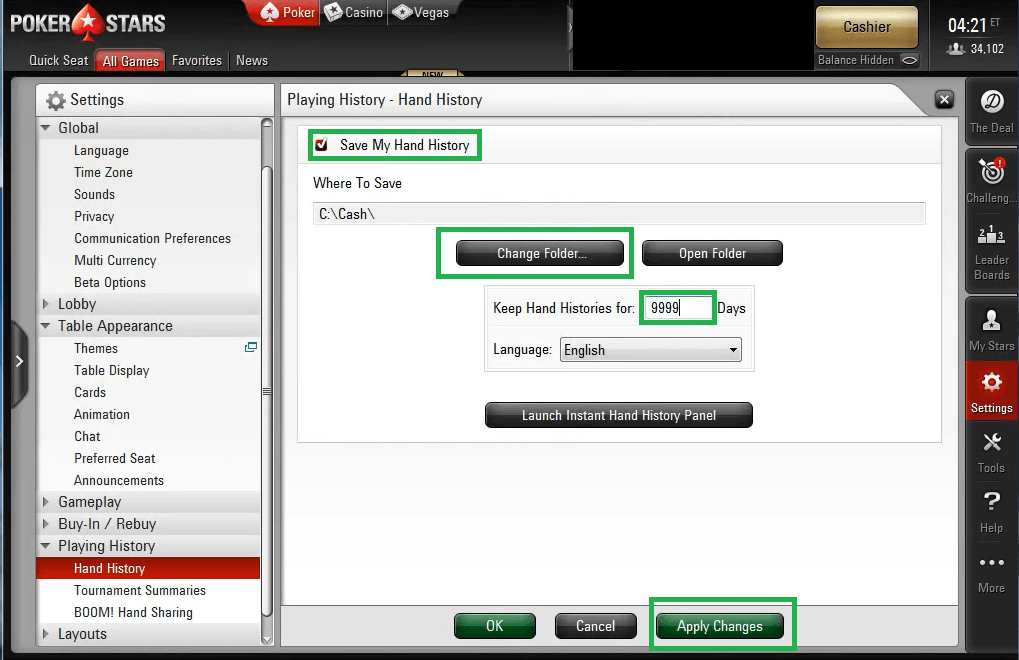 Make a similar procedure for the tournaments "Tournament Summaries" but select the folder "Mtt".
HM2 settings for PokerStars according to a correct import of hand history is finished. The only you should do is to set HUD image at the game table.
HUD settings from HM2 at PokerStars
1. Open Holdem Manager2 and click "HUD Settings"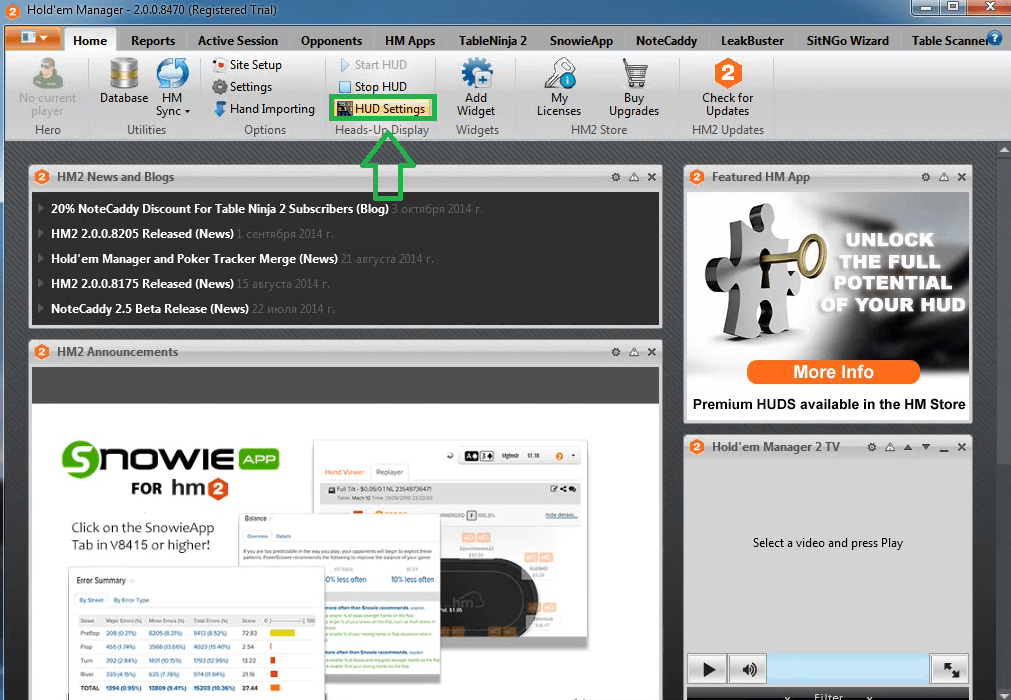 2. Shift to the tab "Site Options" and select:
a. Site: PokerStars
b. the variant of HUD display at the table
с. Games: Holdem
Click "Ok" at the end.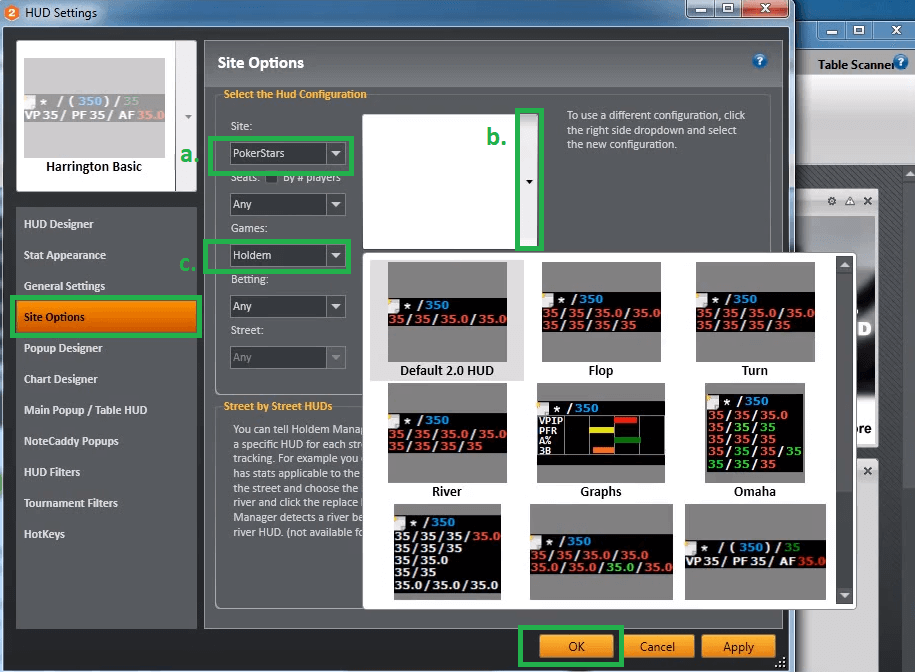 After finishing the simple manipulations reload your computer and start play at PokerStars with a correct operating Holdem Manager2.
Cardmates journalist, news editor and translator since 2016. Specialization: poker news and review of events.