How to fix RIO Poker installation error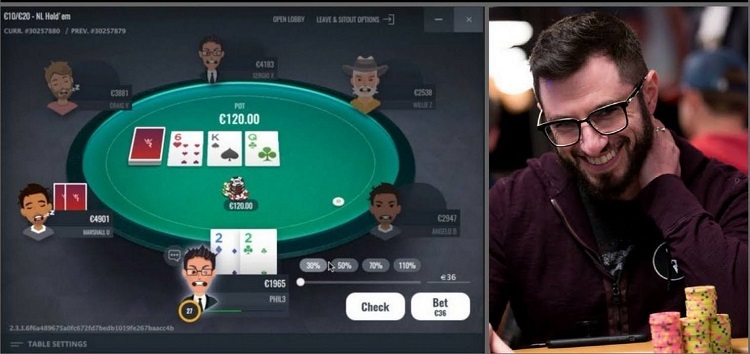 ​
Run It Once Poker has been launched quite recently therefore RIO Poker users may face problems when installing the poker client. Some players can meet register write error, and others may simply have little free disk space.
If «Disk Write Error» error appears on your screen, then implement the following actions:
Open the folder containing the .exe client installation file and run it as an administrator.
Try to change your browser when downloading the boot file (Opera, Chrome, etc.).
Disable your antivirus prior to installing the client since it may block the installation. Once the RIO Poker is installed, enable antivirus software to protect your device from viruses.
What to do if RIO Poker isn't working
If you can't enter your account at the poker room, then contact RIO Poker support service which was created to solve players' difficulties. Prepare an e-mail describing your problem and send it to support@runitonce.eu.
You will then receive a response providing solution to your problem and soon, you will be able to enjoy playing poker at Run It Once.
Tips to solve RIO Poker installation problem
Check your internet connection and make sure it's fast enough to download the poker client.
Make sure your antivirus software allows RIO Poker to access your computer.
Check whether your modem or router blocks 2147 and 443 ports used at RIO Poker.
Update Java and Adobe Flash Player programs.
Download the client again and reinstall it.
RIO on Mac: how to solve the installation problem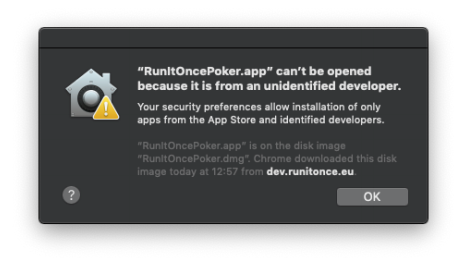 ​
If such an error occurs, you should do the following:
Click on the "Ok" button.
Go to System Preferences> Security & Privacy and click Open Anyway.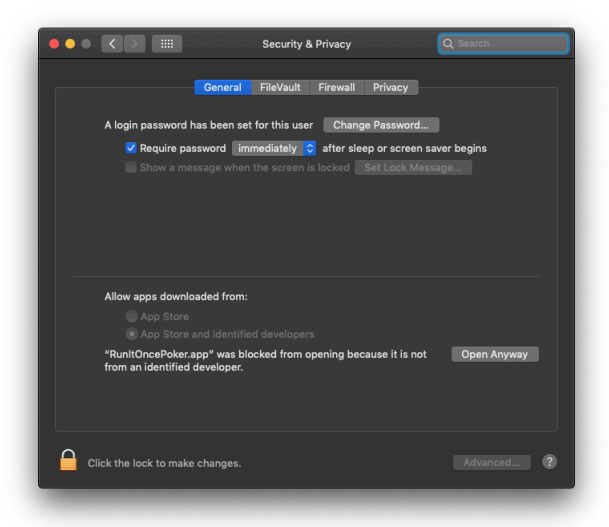 ​
If you still can't install RIO on Mac, contact the support service of the poker room. Before that, make sure the operating system of your PC is compatible with the requirements of the poker room. The following systems are supported:
Windows 10 (32-bit).
Windows 10 (64-bit).
Windows 8.1 (32-bit).
Windows 8.1 (64-bit).
macOS High Sierra – 10.13 (64-bit).
macOS Mojave – 10.14 (64-bit).
Final thoughts
This article outlines the most common installation errors lots of users face. RIO Poker is a quite young poker room therefore you may have some other difficulties when installing it as well.
In any case, you are always able to contact the support service of the room at support@runitonce.eu, and RIO Poker staff will help you to solve the problem. Do not forget to leave reviews on playing at RIO Poker: this is useful for people who have not decided yet whether to play in this room or not.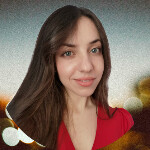 Cardmates journalist, news editor and translator since 2018. Specialization: poker news and review of events.