How much do you want it? Catching up on my losses this month
This blog post is about not giving up. I'll be honest with the reader, it is disappointing to say that when it comes to my September catch up, I have not fared well and I'm now down to around $65 from my start up $150. Reload is required. Nothing to do with my poker play, it's those blasted football bets that still get me. It proves I still don't have the discipline required towards making a serious profit. I still believe I can do it though and I won't give up.
I will use Victor Blom's example for inspiration. At the start of his poker career, which began when he was just 15, Blom had a choice to make. He was doing very badly at school due to his hours spent all night playing poker and then lost it all while at college when he had built up a huge bankroll, gone down to 0 again, borrowed $2000 dollars from a friend one desperate night and lost that all too. Blom is quoted to say in an online diary extract: 'It wasn't even my money I lost that night. I already felt a lot of pressure after losing huge sums and I ended up borrowing his (my friend's) last money.' 'It started out well and I won about $100. Winning almost felt strange to me...'. Blom continued to play that night until he encountered a player at the $310 SNGs who he said 'although I think he was a decent player, was definitely one I felt I could hurt. I started to play several tables against this player and then it happened...' Blom continues, 'He won every all-in situation, everybody coin flip insane suck outs. This hand for example, I flop top pair and a flush draw. We put it all in and he shows up with top pair, deuce kicker. Turn is a blank, river is a deuce.'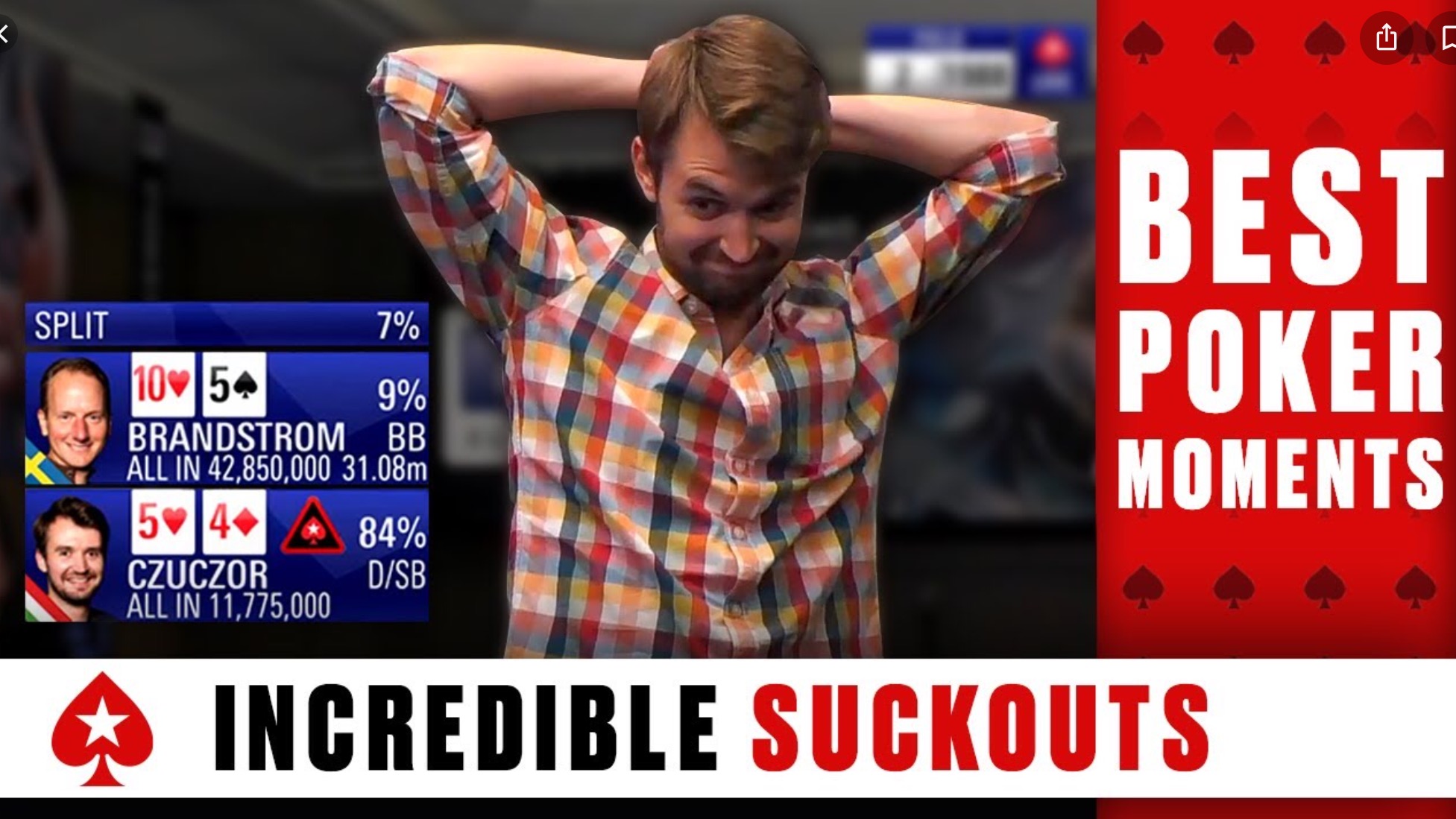 Image of a poker player sucking out.
After Victor Blom lost it all again, he felt like he was a gambling addict, and confessed it all to his angry parents. They wanted him to move back to home so that he could focus on his school and quit poker. He had a choice to make. Go home or go all in on poker. He came back creating an account on Fulltiltpoker with a 15K deposit in December 2009 and went on to make a staggering $6million dollars online in the next 6 weeks, mainly during heads up NL Hold'em battles against Tom Dwan. Although Blom went through further swings of titanic proportions in the end he achieved his dream, to become a poker pro.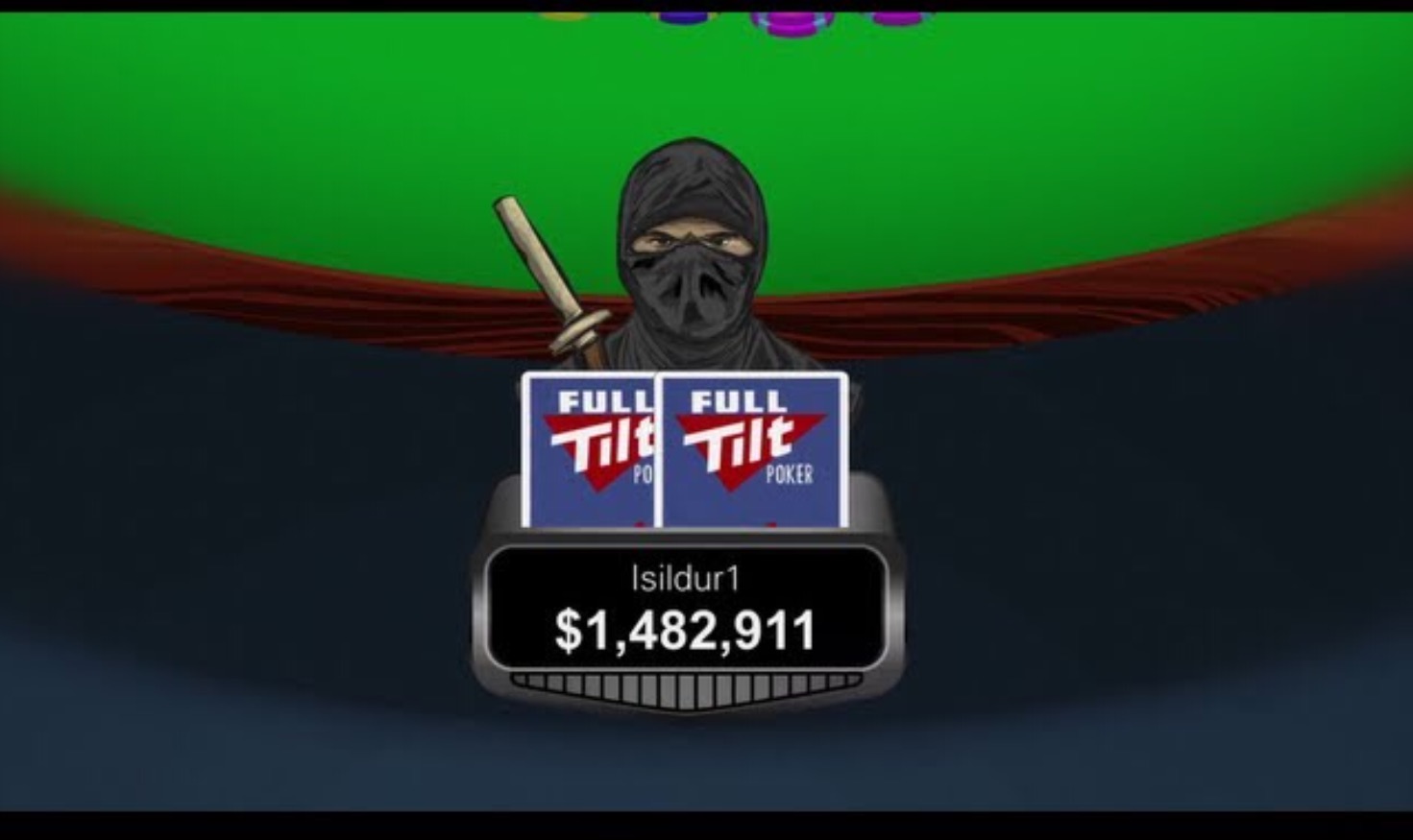 'The fool who persists in his folly will become wise.' Alan Watts.
The great irony of life! How losing can make you feel like, well, a loser, but actually losing helps you to learn far more than winning ever does. Of course no one wants to lose, but as Watts says we become wise due to our persistent folly (and losses). What lessons can we take from loss?
I remember when I was still playing football ten years ago, in our first game we lost 9-0 because we had a player sent off and our manager/coach who was 54 had to go in goal. He was rubbish and at the level we played at, the other team's strikers had a field day, scoring almost every time they had a shot. Okay, I shouldn't lay the blame on our manager, the whole team was a shambles and it was very embarrassing to lose so badly in the first game. Especially as we had some really good players - just a lot of them were inexperienced and playing in a tough league for the first time. I don't know what the others did, but I know what I did. Although I was tired, when I got home I immediately grabbed a football and headed out to the garden and started dribbling skills, turns, keepy ups, sprints, jumps anything I could do to work on my football skills and from that day on I promised myself I would do my very best not to lose like that again.
Two years later, we won the final 14 games in a row to win the league (albeit with a new manager and co manager, who has now sadly passed away, god bless his soul) and I managed to score 14 goals with as many assists. So I ask myself the question again, how much do I want it?
Of course Poker can be frustrating sometimes, especially when you are losing/tilting like Victor 'Isuldur1' Blom was that night he lost his friend's last $2000. It can lead you to do crazy things if you're not careful. You really do need a Zen like attitude sometimes! Even when you think things are going well it can hit you from somewhere completely unexpected if you are up against an underestimated opponent.
I am not comparing myself to anyone of course, but take my experience for example. The last time I played on the micro stakes cash game tables, I was doing really well at a $10 maximum buy in 0.05c/0.10c 6 player table and had built up my stack to $26, including flopping quads with 9-9 to take down a pot of $16. However, in my last hand of the session I held A-A from early position and basically lost all my profit against a dangerous opponent. He had already given me a warning shot when I had re raised him earlier before the flop with AQ unsuited and hit mid pair on a flop of KQ10 - only to hit a lucky J on the river, figuring I had him best. He showed me J ♠️ 9 ♠️! (He also had a flush draw on the flop!). Anyway, in my final hand against him I wasn't so fortunate. My A-A got cracked when he flopped a set with 3-3 and we got all the money in quickly ...and the rest of my profits were history....Well played sir!
So next month, I'll try again. For now I'll take a break, read, learn and reflect on how I could approach things better next time. There is a way to do this properly....the path to success...to making money. Your odds are improved every time you improve your own game, so I still have many lessons to learn
Back to poker, staying positive :)

One positive is that I'm very happy that I did well in one tournament until I was busted out in the bubble. A second positive is that I have discovered I find it better to move up the levels slightly of micros stakes cash game tables, where I find greater success. Overall, for me, I'd like to become a winning player and I have found my determination and inspiration to do so again. But for the moment, I'll continue to wait at the door.

Next up: Blackjack and Don Johnson the Las Vegas Whale (documentary review)
Overall rating of this post:

I have been playing poker for about 15 years. I play online currently and I've played poker in casinos, card rooms, local games and with friends. I play NL hold'em tournaments and cash games and can also play Pot Limit Omaha, a game I also love.