Flopzilla review: instruction and tips on main functions

​Flopzilla is a unique poker calculator that gives you an opportunity to evaluate the strength of your hand.
It is pretty easy to use Flopzilla – you indicate your cards, board cards and the program displays a probability of collecting different combinations.
You can download Flopzilla and test its restricted functionality (ability to specify the cards only for a flop; it is no longer possible to do it for turn and river) for 7 days for free.
A manufacturer offers such a trial for familiarizing with the program.
The subscription costs 25$. It allows to install Flopzilla on 2 computers (this means that you can use the program on two devices with one subscription simultaneously).
Description of Flopzilla main functions
It is pretty simple to use the application since all the tools are in the same window.
Hand matrix
Hand matrix is a table of all possible pocket cards, which consists of 13x13 squares. All hands in it are divided into two categories: the upper triangle - suited, the bottom one – offsuit.
A diagonal of pocket pairs goes through the center (from the right bottom to the upper left corner).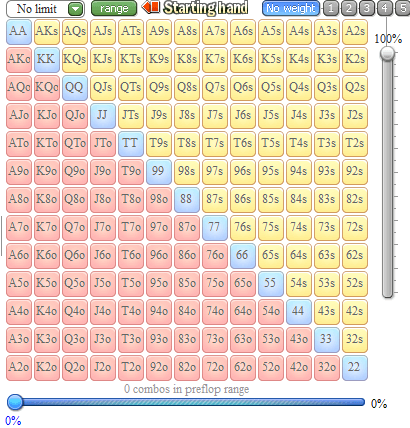 You can select a hand in this list and see what equity it has on both preflop and flop.
Slightly right is the slider in which you expose the frequency with which a certain hand enters the range.
Community cards (Board)
The next block also consists of 52 cards that are arranged in 4 columns by suits:

​Once you have chosen a hand or a range, the first three selected cards in the block of boards will form the flop. The fourth card is the turn, the fifth one is the river (turn and river are not available in a trial version).
The scheme of working with the program is the following: choose 2 pocket cards, select community cards, see how much equity you have.
Statistics section (Statistics)
This is the most important section in the whole program. It will display how often your hand will win in a percentage terms.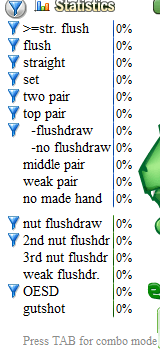 ​For instance, you think that the player with a set range will not always make a continuation bet (cbet) with a completed flush. Click near inscription of flush with the right mouse button and specify the desired frequency with the slider. Alternatively, if the opponent never posts the cbet, then simply click on a blue filter and it will be removed.
Attention, the total equity of the hand/range on a selected board changes after each action in the statistics section. Keep an eye on this and use it in calculations.
Dead Card Section (Dead cards)
In this section, you specify your hand or those cards that for sure will not come on the postflop. For instance, if an opponent has mucked AJo faceup, then you indicate these cards here. This is necessary for a more precise calculation of postflop strategies.

​Hotness Section
Hotness section is a training simulator for working on the game (it is a very useful function).
A hidden Hotness section will appear if you expand your program to the maximum. It shows how the equity of the range changes according to the given community cards depending on the cards that can come. You will not always be able to understand intuitively which card improves your hand and which one improves your opponent's hand. Hotness section is exactly what you need to train these skills.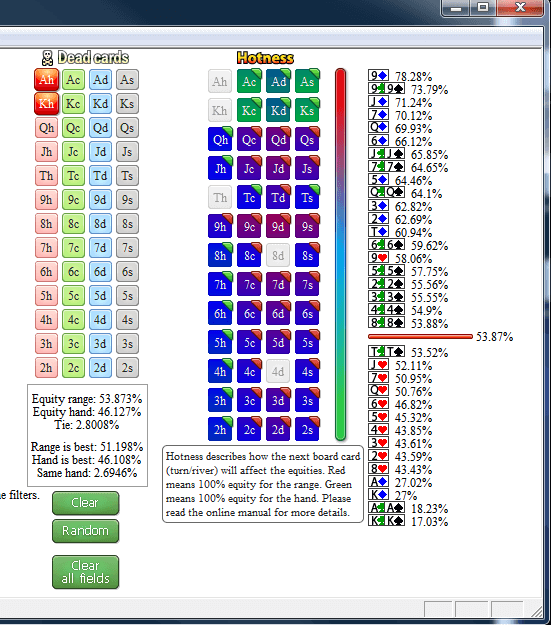 ​How to save Flopzilla ranges?
In order to save ranges you need to open Save/load tab and choose "Export predefined ranges".
A window will display the text that you need to copy and paste it into "Import predefined ranges" window on the other computer.
To save hands with postflop, use "Export save file as forum/email test block" item in Save/load tab.
What else do you need to know about Flopzilla:
It is prohibited to use Flopzilla while playing on PokerStars (when a client is open);
In order to transfer Flopzilla to another computer, you just need to write to the support service at contact@flopzilla.com (a letter should be written in English).
Buying of Flopzilla application is a great investment of money. Not a single soft you will need as often as this one. And don't forget about the possibility of free usage for 7 days of the trial period. Good luck in mastering the program!