Vladimir Troyanovskiy's biography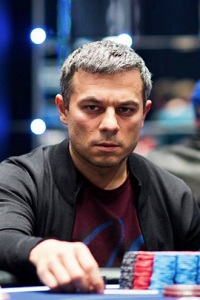 Vladimir Troyanovskiy
(47 years)
over $7 860 000
Offline prizes
exact amount is unknown
Online prizes
The best result:
$945 845 or €844 000 (the 2nd place in Triton 100K Super High Roller at partypoker MILLIONS Europe 2019 in Rozvadov)
Main achievements:
2nd in Russia All Time Money List for 2019, 9 trophies in PokerStars live tournaments, famous Russian backer
Can be found by nickname:
Vladimir Troyanovskiy is a famous Russian highroller player. At the beginning of his career, "vovtroy" played inexpensive offline tournaments. It was in 2003-2007. However, Troyanovskiy states that he played poker since school, but he had enough money only in the 2000s and after that he started to visit casinos.

At that time, the prize money of Russian player didn't exceed the five-digit amounts. The fame and big prizes came to Vladimir since 2012. In that year, Troyanovskiy won his first EPT trophy and became the champion of heads-up tournament for €3,200 at EPT Berlin.
Now "vovtroy" has 7 PokerStars spades (4 won at EPT, 1 – at PokerStars Championship Bahamas, 1 – at PokerStars Festival Rozvadov and 1 – at PCA 2018), two APPT cups and Russian Poker Tour trophy.
Troyanovskiy earned his first million in poker in early 2013 at PokerStars Caribbean Adventure. He took the 7th place in Super High Roller with $100,000 buy-in and won $257,580. Then he became a runner-up of PCA 2013 High Roller Tournament and turned $25,500 buy-in into $792,180. From that moment, the success of Russian player had just begun.
Thus far, Troyanovskiy can be called a frequent guest of the popular poker series offline. His name periodically appears in a prize-winners' list of series from PokerStars and in Asian tournaments. In the ranking of the best tournament players among Russian players, Troyanovskiy takes the 5th line (according to GPI).  Despite this, Vladimir not only plays, but also acts as a backer.
Troyanovskiy plays at PokerStars under the nickname "vovtroy". He has a lot of first places and final tables of the popular PokerStars tournaments. According to various sources, Troyanovskiy earned over $2,000,000 in total in online tournaments.
He used to be an active online cash player, but now he rarely appears at the cash tables. He focused more on tournament play, as he considers that it is unprofitable to play online cash against the professional players and swindlers who use the statistics and other privileges of play at the computer.

Interesting facts about Vladimir Troyanovskiy:
Troyanovskiy graduated the Institute with a degree in mechanical engineer of trade enterprises and public catering. The player said in the interview with Mikhail Semin that the topic of his course project was "Cabbage packaging line".
People close to «vovtroy» and Vladimir himself state that he has his own business. But nobody disclose even the sphere in which he works.
Vladimir Troyanovskiy doesn't play at WSOP for one simple reason – he can't go to the USA. Year after year, he was denied an American visa due to the fact that he once mistakenly submitted wrong information to the consulate for visa's obtaining. The last time, Troyanovskiy was at WSOP in 2007.
In 2016, Russian player took part in the first GPL poker league. He played for the team of Russian pros "Moscow Wolverines" under the leadership of Anatoly Filatov. The year before, Troyanovskiy represented Russia in another Global Masters team project.
The player is quite hazardous person and he often bets: for example, he made a wager on his results in online poker series against the results of his colleagues.
Troyanovskiy's wife Antonina Anapolskaya also plays poker.
Vladimir is a backer for the number of talented Russian poker players. He said in the podcast with Semin in 2016, that he is engaged in backing with his fellow Sergey Sergeev. There are also (or were at that time) Andrey Pateychuk, Roman Korenev, Ilya Krupin, Alexandr Komarov in the team which is sponsored by them. Troyanovskiy sometimes invests money in the play of Alexander "Academician" Lakhov.