Ilya Gorodetskiy's biography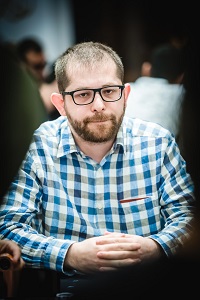 Ilya Gorodetskiy
(42 years)
over $275 000
Offline prizes
over $375 000
Online prizes
The best result:
$62 400 or £39 200 (the 3rd place in NLH tournament for £2 700 at EPT London)
Main achievements:
one of the most famous Russian-speaking poker commentators
Can be found by nickname:
Ilya Gorodetskiy can be rightly considered as "The poker voice of Russia". The majority of poker fans know him as a brilliant commentator and analyst. However Ilya also demonstrated good results in the tournaments.

Gorodetskiy was borne in Moscow. He was deeply involved in chess from an early age and was able to become a candidate master of sports. Later he gave up chess and got back to it after the University. By the way the player graduated University with honors diploma. Then Ilya worked at Garry Kasparov's site. After a while he became a head of editorial department. There he met his future wife Nyuta Federmesser. A couple has two sons: Leo is the eldest and Michael is the youngest one.
Ilya Gorodetskiy and poker
In 2005 Ilya got acquainted with poker for the first time. His friend told him a little about the game's rules and then Gorodetskiy started to progress in this field. Primarily he played the freerolls and inexpensive tournaments and then Ilya was deeply involved in poker and read three volumes of Harrington's books. It took him only a little bit more than a year for achieving serious results. At first he played exclusively online and later he became a frequent visitor of capital offline tournaments.
Ilya started play in larger tournaments thanks to a famous poker professional and backer Sergey Rybachenko. Gorodetskiy was invited in Gipsy Team and he accepted this proposal. The player repeatedly took part in popular tournaments for the sponsorship money of a project.
In 2009 Ilya participated in WSOP in the tournament with buy-in 5 000$ that was conducted in Las-Vegas and earned 17 270$ by taking 41st place. However, his most profitable play was at EPT in London where Ilya earned 62 400$ for the 3rd place.
Currently Gorodetskiy participates much less often in the tournaments, both in live and online ones. Earlier "ilushan" also played online cash-games. Now Ilya devotes most part of his time to commenting and also other projects.

Ilya Gorodetskiy and mass media
According to Ilya's words in 2006 he was accidentally invited to 7TB channel in order to comment poker game. Time has shown that it was a wise decision from TV channel because Ilya comments the game successfully and interesting until today. In 2007 Gorodetskiy was offered to cooperate with Poker Europe magazine where he became a chief editor pretty soon. Then Russian-speaking project of PokerNews appeared but it wasn't successful because poker was prohibited in Russia at that time.
Now Ilya continues to actively comment the main poker events in the world and thereby he gladdens the viewers.
For a long time, Ilya, in a duet with Mikhail Semin, were irreplaceable commentators of PokerStars poker events, until in 2016 Semin exchanged a commentary booth for PokerDom badges. After that, Ilya Gorodetskiy and Denis Grigoriev became the official commentators of PokerStars. It is their voices that you can hear in Russian-language online broadcasts of PokerStars in 2019. He also comments other poker events. In the commentary booth often can be seen poker professionals, including Mikhail Semin and PokerStars Team Pro Mikhail Shalamov.

Interesting facts about Ilya Gorodetskiy
The commentary duet of Ilya Gorodetskiy and Mikhail Semin is called the best in the Russian-speaking poker community. Both guys are called the "poker voice of Russia".

​Ilya Gorodetskiy is a candidate master in chess;
Ilya doesn't watch such channels as "the First Channel", "Russia-1" and "NTV";
Ilya Gorodetskiy works for charitable causes and his wife Nyuta Federmesser is a head of charity fund for assistance the hospices "Faith".