Dmitry Gromov's biography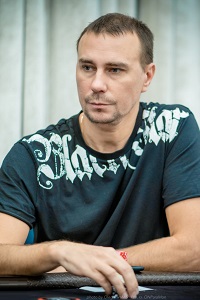 Dmitry Gromov
over $2 900 000
Offline prizes
exact amount is unknown
Online prizes
The best result:
$637 000$ or €447 840 (1st in Main Event WPT in Vienna 2011 with €3 500 buy-in)
Main achievements:
top-20 best Russian players
Can be found by nickname:
Dmitry Gromov got acquainted with poker in 2009. At that time he was a student of Economic University and devoted little time to the poker game. Gradually, he taught the theory, started to play online and was engaged in poker more seriously.
The progress was obvious, and in the same 2009, Dmitry began to play in the live events. His first big winning was in one of Spring Poker Festival tournaments in Vienna. The Russian poker player earned $18 835 for the first place. Since that time, Dmitry showed good results in big events.
In the same year, Gromov became the winner of tournament at Belaggio casino in Las Vegas and earned $20 350. He often floated into prizes and it became clear that he came to poker for long. It is worth noting his large winnings such as the first place in Venetian Deep Stack Extravaganza tournament (+ $316 800), as well as championship title in Main Event Russian Poker Series 2010 from PokerStars in Kiev (+ $201 400). The most significant victory of Russian player is the first place in Main Event at Austrian WPT, where he earned $637 000.
Dmitry Gromov is among top Russian players and he has more than $2 900 000 won in the live tournaments for 10 years of his play. His responsible approach to the game demonstrates a high level of professionalism.

​
Interesting facts about Dmitry Gromov:
According to Dmitry's words, he doesn't play cash games, because there is no spirit of sport in such games.
In 2009, Dmitry Gromov was a member of Joker Team, which also included such famous players as: Evgeniy Zaytsev, Maxim Lykov, Dmitry Stelmak.
In his spare time, Dmitry likes to study psychology, which helps the player to read his opponents at the table.