Dmitry "Forhayley" Yaskevich's biography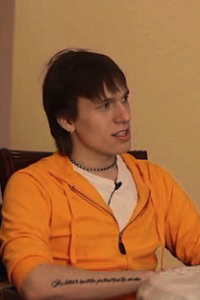 Dmitry Yaskevich
exact amount is unknown
Offline prizes
exact amount is unknown
Online prizes
Main achievements:
in the 2010s was one of the most famous high rollers online
Can be found by nickname:
​Forhayley has been one of the most successful online players in the world. Dmitry (it is his real name) began to play poker in 2009. Due to the fact that Forhayley hadn't enough money, he played at the low limits and went all the way from the bottom to the top. According to Dmitry's words his main motivation in the game was the earning, that's why it was a priority task for him to quickly pass through the low limits.

After a year Forhayley was able to get to NL50 where the prize money was quite significant. Parallel to this, Dmitry started blogging on a poker theme where he shared his results with the users of a network.
In another 1 year at the end of 2011 "Forhayley" was able to get to the highest limits. He was awarded the status of Supernova Elite (the most prestigious status) in the poker room PokerStars. Such achievements are the result of Dmitry's hard work. "Forhayley" played more than 15 000 hands within a month. Furthermore, when the player started to play he devoted a lot of time to the theory and it had an impact on a high level of the player's skill.
Basically Dmitry played cash-games that's why he cannot be named as a tournaments player. However "Forhayley" distinguished himself in the several large online series. In 2012 Dmitry got 68 000$ at SCOOP for the first place in the tournament with buy-in 215$. In 2015 "Forhayley" became a runner up at WCOOP in high roller tournament for 10 000$. The player was entitled to 112 000$ for the second place.
In 2015 "Forhayley" harshly disappeared from the radars of cash-games and also tournament competitions. Rumors spread in the internet that the player gave up poker and later moved to America where he went into business. In the same 2015 year Dmitry supported a protest against PokerStars. According to his words PokerStars reduced a rakeback for the regular players in order to control them. At the same time Dmitry stated that he would do the same thing if he was in a PokerStars place, but due to the fact that he is a regular player he defends the view of regular players.
Two years later, in 2017 Forhayley made an announcement by writing a big post where he explained the reasons of stopping his blog and also shared his attitude to money.
His statement regarding to money:
"The stark realities of life are that money really can make us happier. But God, it is so difficult to understand how quickly the moment comes after which the magic effect of a material welfare stops having any meaning".

"Of course there is very limited number of people who can live in a harmony with themself and earn 200$ per month. However even smaller numbers of people will be able to feel any improvements by starting to earn 50 000$ per month instead of 2 000$".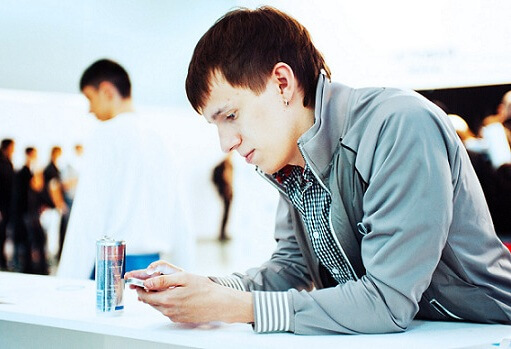 Regarding to his blog:
"One of the main reasons why I didn't want to get back to this blog was that I had lost touch with a personage whom I created. I began to feel an incredible neglection towards the naive Forhayley in the style of 2011, but I understood in the depth of my heart that I didn't want to destroy an image that motivated and cheered up the others".
According to highstakesdb data Dmitry has the following results.
"Forhayley"s graph of success in 2013. It is seen that his results were unstable: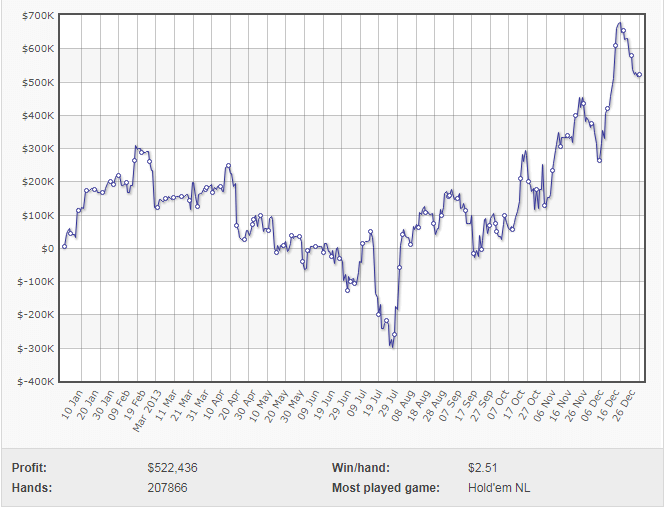 ​Graph of "Forhayley" at PokerStars during the entire career: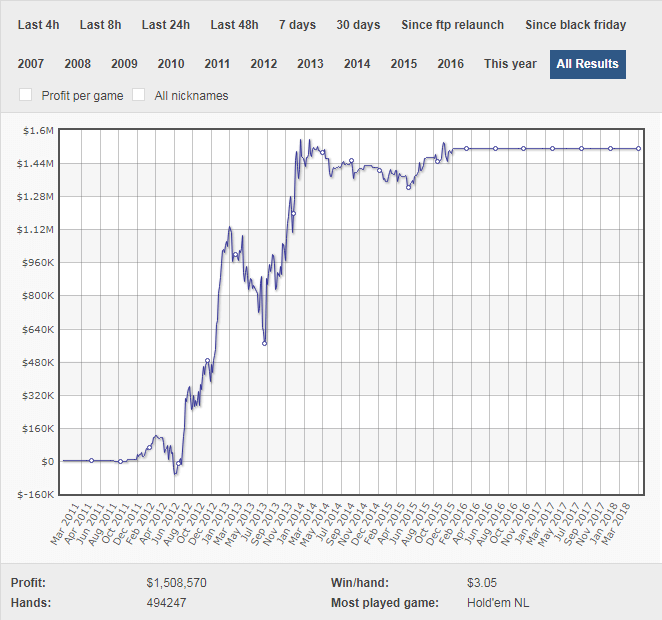 ​Interesting facts about "Forhayley"
Before poker career Dmitry was actively involved in e-sports and even worked as commentator in the discipline "Counter-Strike" in large tournaments.
Dmitry didn't obtain a higher education, he was kicked out from the University at the 4th year.
During several poker session for 2 months at 6-max tables at 400/800$ limits with "MalACEsia" (Paul Phua) the player earned about $2 000 000.
According to Dmitry's words he likes to travel and also visit the concerts.
Forhayley wasn't shy to spend honestly earned money. Dmitry could spend about $20 000 per month.