Artem Vezhenkov's biography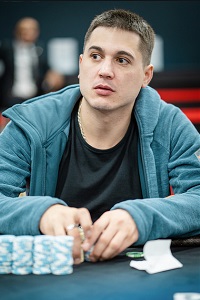 Artem Vezhenkov
over $230 000
Offline prizes
over $8 860 000
Online prizes
The best result:
$183 675 for the 1st place in Sunday Million in 2015
Main achievements:
3 victories in Sunday Million, 2 WCOOP trophies, 1 SCOOP title
Can be found by nickname:
Artem "veeea" Vezhenkov is a Russian MTT professional player who is famous for his winnings online. If you have ever asked yourself: "Who is the guy under the nickname "veeea" in poker?" – here is the answer.

Once Artem told in the interview for Cardmates that he is from Tomsk and he started to play poker since the age of 22. He got acquainted with game at the last course of University and tried to clear up free 50$ from PokerStrategy on his friend's advice. Soon the guy realized that he could earn good money by means of poker.
As a result poker became a profession for Artem Vezhenkov. He specializes in MTT online.
According to PocketFives data Vezhenkov has over 8 860 000$ of prize money in online-tournaments. He has 311 first places, 241 second ones and 207 third places in different tournaments. The most considerable winnings of "veeea" are three victories in a popular Sunday Million tournament for 215$ and each of them brought the player six-figured amounts. Also he has three victories in Super Tuesday for 1050$, two WCOOP trophies and one title of SCOOP champion. Besides that he repeatedly became runner-up or finalist in such popular online series as TCOOP, SCOOP and WCOOP.
Top-7 online victories of Artem Vezhenkov's:
Sunday Million for 215$ (15.11.2015) – the 1st place and 183 675$ of prize money.
Sunday Million for 215$ (09.07.2017) – the 1st place and 166 530$ of prize money.
Sunday Million for 215$ (16.12.2018) – the 1st place and 141 494$ of prize money.

WCOOP-12-H: 10 300$ NLHE [8-Max, High Roller] (04.09.2018) – the 5rd place and 132 999$ of prize money

WCOOP-47-H: 2 100$ NLHE [8-Max] (16.09.2017) – the 3rd place and 113 950$ of prize money.
Super Tuesday 1 050$ (02.04.2013) – the 1st place and 112 833$ of prize money.
TCOOP-65: 700$ NL Hold'em [6-Max, Hyper-Turbo, Ultra-Deep] (29.01.2017) – the 2nd place and 100 937$ of prize money.
Despite the fact that Artem's main winnings were at PokerStars (over 5 000 000$ in total) he also plays in the other poker rooms - 888poker, PartyPoker, Microgaming network.
He is considered the best MTT player in Russia and classified as the fifth in a list of the best online tournament's players in the world. There was a time when he took the lead of this rating.
Vezhenkov's offline success is more mundane and it is clear because the guy rarely visits tournament series. He has just over 10 ITM in live Events where one of them was at RPT in Odessa (Ukraine) in 2011, 8 cashes were in Cyprus in 2013 and two - at partypoker MILLIONS Russia 2018 in Sochi. In total Artem's offline earnings are a little bit more than 190 000$, where 50 700$ from this amount he got for the 5th place in a high-roller tournament WPT Merit Cyprus Classic and another 49 000$ he got for the 7th place in a high roller tournament in Sochi.

Interesting facts about Artem Vezhenkov:
Vezhenkov created his nickname "VeA" by taking the first letters of his surname and name.
Russian player is a degreed politologist. He graduated from Tomsk State University.
Vezhenkov was engaged in sambo- judo, also he was fascinated by the swimming and chess, computer games like WarCraft and StarCraft.
Artem "veeea" Vezhenkov on social networks:
Biography materials