Artem Metalidi's biography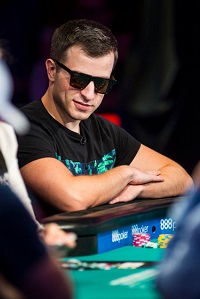 Artem Metalidi
over $3 400 000
Offline prizes
exact amount is unknown
Online prizes
The best result:
$1 250 000 (the 8th place at WSOP Main Event 2018 for $10 000)
Main achievements:
one of the best poker players in Ukraine, finalist of WSOP Main Event 2018
Can be found by nickname:
Artem Metalidi is Ukrainian poker player and he is considered one of the strongest tournament players in the country. He is known online under the nickname "Artem205" at PokerStars.

The player appeared in the hendonmob tournament reports in November 2011 and since then he got over 3 400 000$ in poker, but herein Metalidi has never won the tournament. He hasn't EPT spade, WSOP bracelet and other prestige trophies. At the same time Artem became a runner up of NLH tournament for 3 000$ at WSOP 2012. He took the second place in Freezeout Turbo for 1 100€ at EPT Deauville and was 1 step away from victory at NLH tournament Deep Stack Extravaganza III for 5 000$. Besides that he has 3 fourth places, 2 fifth places, 1 sixth one, 4 eighth and 2 ninths places. He repeatedly won six-figured amounts both in the live events and online. But the main player's achievement is a final table at WSOP Main Event 2018 where he took the 8th place and earned the largest prize amount in his career.
Unfortunately, online statistic of Artem205 is hidden, but it is known that he repeatedly played at the final tables of such popular tournaments as TCOOP, SCOOP, WCOOP, Sunday Warm-Up, Super Tuesday.
The player specializes in No limit Texas Hold 'em and is known for his tight play and also has a good reputation in a poker community.
Artem Metalidi and WSOP
Metalidi visits WSOP in Las Vegas annually since 2012 and every time he took a couple of prize-places in the bracelet tournaments. His first result at WSOP brought him the second place at Event #23: 3 000$ No-Limit Hold'em 6-Handed where he got the largest prize sum in his career and became a famous player throughout the world. After it Metalidi became the finalist of WSOP three times. In 2017 he finished at the 4th place in NLH 6-Handed Championship for 10 000$ (+204 000$ prize amount), but Russian player Dmitry Yurasov won this event. In 2015 he took the 8th place in NLH Extended Play for 1 500$. But the main thing is that Metalidi became the finalist of WSOP ME in 2018. It was the second final table in Main Event for Ukraine since Anton Makievsky took the 8th place in 2011. Artem wasn't able to show better result and eventually he left the game at the same 8th place. It brought the player 1 250 000$ - the largest prize amount in his career.
In general Artem has 28 cashes in bracelet tournaments that brought Ukrainian player 2 000 000$ in total.

Interesting facts about Artem Metalidi:
Artem Metalidi is inhabitant of Kiev. He graduated from Kyiv Polytechnic Institute.
In 2012 poker world got acquainted with Artem Metalidi. He went to WSOP in 2012 for the first time and played at the final table of such tournaments as WCOOP at PokerStars three times.
Metalidi became the finalist of Main Event WSOP 2018.