Andrey "Zloo" Shatilov's biography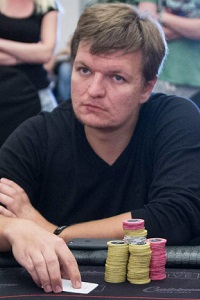 Andrey Shatilov
(34 years)
over $3 260 000
Offline prizes
exact amount is unknown
Online prizes
The best result:
$684 876 the 3rd place in NLH Single Re-Entry 8 Handed for €25 500 at EPT/ESPT Barcelona 2016
Main achievements:
first Russian at the PCA Main Event final table
Can be found by nickname:
Andrey Shatilov is known in the poker community as "Zloo" and "AzEsmTzar". Russian player is famous for significant success in online poker and he has over 3 200 000$ of prize money that was earned in the live tournaments.

The first mentions about Andrey at hendonmob was dated in 2010 when Shatilov took the 21st place in Main Event Grand Series of Poker Live Malta and won unassuming 3 000 euro. The first six-figured winning of Russian player was in April 2012 when he became a champion of the tournament for 3 300$ at GSOP Live – Grand Final in Punta Cana and took away 108 000$. The best player results in live events are: the 3rd place in NLH Single Re-Entry 8 Handed for 25 500€ at EPT/ESPT Barcelona 2016 (684 876$) and the second place in Main Event Caribbean Poker Party 2017 (650 000$).
According to Andrey's words he started to play poker around 2009 because of his friend's advice and began to conquer online poker. At that time he got free 50$ at PokerStrategy and played SNG PartyPoker for 1$. When it remained 15$ from the initial sum he played 2 SNG tables for 6$ and won both of them. Since then his business is doing well.
Andrey spent about three years for getting off SNG for 1$, but a half of that time he spend for studying and just a little time for poker.
Initially poker was an ordinary hobby for Shatilov and he combined it with his job, but later Andrey realizes that he earned more money in poker than at his job and decided to fully concentrate on game.
"AzEsmTzar" played in Ongame network 5-max turbo for a long time, but over time he proceeded to PokerStars where he played HU and 6-max hyper-turbo. Andrey's success in poker was quite speedy, in 2012 he got a status of Supernova Elite at PokerStars and as it was mentioned above he won his first tournament offline.
According to pokerprolabs data the favorite games of Shatilov at PokerStars are 6-max turbo and hyper-turbo for 500$ - 2 000$. However, now the player can be met in many popular tournaments.

Interesting facts about Andrey Shatilov:
Shatilov studied at Lobachevsky State University of Nizhny Novgorod at Mechanical and Mathematical Faculty. At 5 course of the University he got acquainted with poker. At that moment he had been working with a university specialization.
Andrey is from Nizhni Novgorod.
Nicknames of Andrey Shatilov: "Zloo0", "AzEsmTzar" at PokerStars, and in ongame network he had several nicknames: "Zloo", "AzEsmTzar", "AzEsmZloo".
The film "Ivan Vasilievich Changes Profession" inspired Shatilov for creation nickname "AzEsmTzar».
Andrey was fascinated at school by chess and even participated in some competitions.
Andrey Shatilov on social networks: