Best programs for multitabling

Everyone knows that there are a lot of poker tools and software.

But how to find that one that will be worth your money and time?
What are the best programs for multitabling – paid of free ones?
In this article, we will talk about soft that will undoubtedly become useful for you.
So, we present you the best programs for multitabling in poker:

StackAndTile
TableNinja 2
SessionLord Multitabling
Universal Poker Table Organizer (UPTO)
PartyCaption
StackAndTile

StackAndTile is a program that will replace and place your poker tables at the screen. It will allow you to focus only on the important tables and unnecessary ones will be hidden. Soft is developed only for professional players with an aim to simplify multitabling.

StackAndTile characteristics
Placing of tables one below the other, across the width of a desktop and manually;
Convenient and comprehensible interface;
"Hot keys" for tables' management and for players' actions;
Automatic activation of table at which the player's time to act started;
StackAndTile is a paid program for multitabling but there is possibility to use it free of charge. In order to do it you should get acquainted with the following data in the table:

Soft is supported by all poker rooms and networks (PokerStars, Full Tilt Poker, PartyPoker (bwin, WPT Poker), CakePoker v1, Revolution/Horizon (Juicy Stakes), iPoker (TitanPoker, WilliamHill, Coral, etc.), iPokerNew (TitanPoker, WilliamHill, Coral, etc.), BodogIgnition, WinningPoker (TruePoker, AmericasCardRoom, BlackChipPoker), WinningPokerJackpot (only for theirs jack-pot tables) 888PacificPoker, Winamax, Microgaming, Unibet, Chico (TigerGaming, BetOnline), HivePoker (PlanetWin365).
TableNinja 2
TableNinja 2 is the next program for multitabling that will allow you to play many tables and cope with the task better without efforts. It will help to save your time and give the opportunity to make the best decisions.
TableNinja 2 characteristics
Creates the templates and place the tables;
Regulates the bets' sizes;
Automatically registers in SNG tournaments (according to your set parameters);
It has the function of auto-return from sit-out and many other things that will facilitate the work with maximum quantity of tables and will save the time for making optimal decisions;
It has a lot of "hot keys";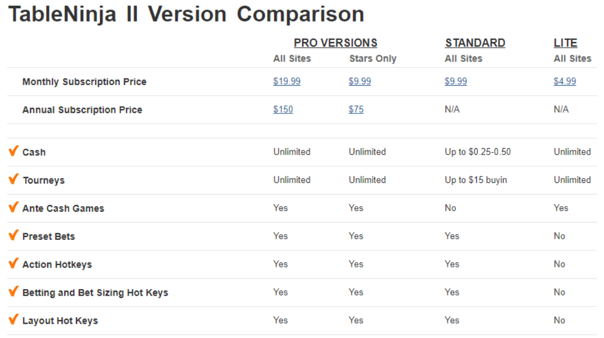 This soft fully supports only 3 poker rooms: PokerStars, FullTilt and PartyPoker. TableNinja 2 is a paid soft.
SessionLord Multitabling
SessionLord Multitabling is a program for multitabling at PokerStars that will help you to find the best places at the table. It owns the functions for multitabling that allows you to play maximum quantity of hands per hour.
Characteristics of SessionLord Multitabling
It is one of the fastest programs for analysis and registration in Sit & Go without limitations in games' types;
"Opener" of cash-game for the players at high limits;
It collects automatically unknown players in Sit and Go and marks them with a colour code;
Organization of tables with a new priority processing system and tables frames;
It imports the ranges from other equity-tools (for example PokerRanger) and also hands' history;
It preinstalls the bet sizing that is based on position, big blind and stack levels;
It converts $ into BB even with a color indication of ranges;
It distributes the hands' strength at unknown flops.
HUD that includes a play history discerns the game type, pot-odds and many other things.
It has "hot-keys" and characteristics that are similar to Table-Ninja.
There is detailed information in the table concerning the price of this soft: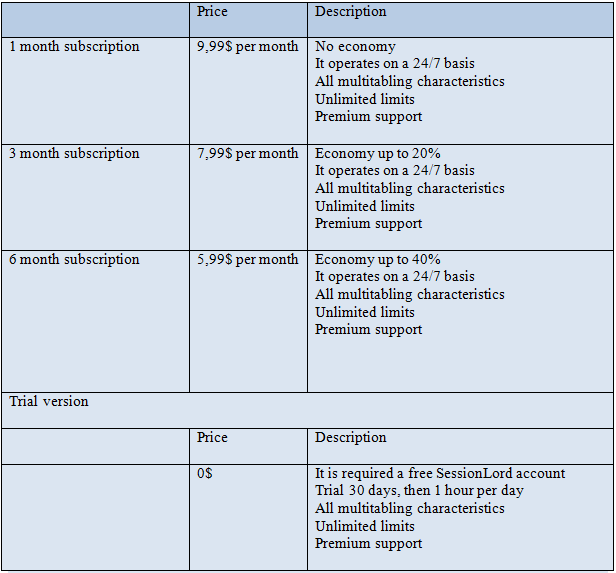 Universal Poker Table Organizer (UPTO)
Universal Poker Table Organizer (UPTO program for multitabling) is a soft for more comfortable play online.
UPTO characteristics
It gives opportunity to place poker tables for any modes and poker rooms;
You can easily create different configs and switch between them during the play;
Every config can have one or several groups of similar tabs;
Tables can be auto-sorted according to blinds' level and auto-moved when one table is closed within one group and also can be shifted by means of a mouse;
Every group has its own settings: Mouse-Activate, Auto-activate, Auto-size, Auto-shift, Auto-sort, Auto-place;
If you play in the several poker rooms simultaneously then you can use the same slots (Shared Slot) for every poker room
This program for multitabling is supported by 888poker and many other poker rooms;
You can use TOI Style (TOI – Table Of Interest). In this style all necessary tables at which you should make decisions are displayed in one slot;
Every slot is defined by two axis set – one is for normal state and another is for activated state;
When poker table is activated it can be increased up to a bigger size and even change location;

You can download this soft at the official site. The price of annual license is 30$. Free program for multitabling (i.e. demo-version) is available during one month. Soft is supported in the following poker rooms:

You can download this soft at the official site. The price of annual license is 30$. Free program for multitabling (i.e. demo-version) is available during one month. Soft is supported in the following poker rooms:
PartyPoker.es
PartyPoker.fr
PartyPoker.it
PartyPoker NJ
bwin.es, bwin.be
bwin.fr, bwin.it
BorgataPoker
PartyCaption
PartyCaption is relevant soft for multitabling that owns characteristics similar to TableNinja 2 and Universal Poker Table Organizer (UPTO).With the help of PartyCaption you can create the notes for your opponents that will be displayed when moving the mouse cursor over their avatars and also set the bets' sizes and run the function of chips' auto-buying.

PartyCaption operates free of charge at the limits up to NL10 and in the tournaments with buy-ins up to 3$. Free usage period without restrictions on limits is 30 days. It can also be granted on a paid basis, annual subscription is 30$.
Soft is suited for play at PartyPoker and other poker rooms of bwin.party network:
bwin.com
PartyPoker.es
PartyPoker.fr
PartyPoker.it
PartyPoker NJ
bwin.es, bwin.be
bwin.fr, bwin.it
BorgataPoker